The Essential Guide to Oregon's North Coast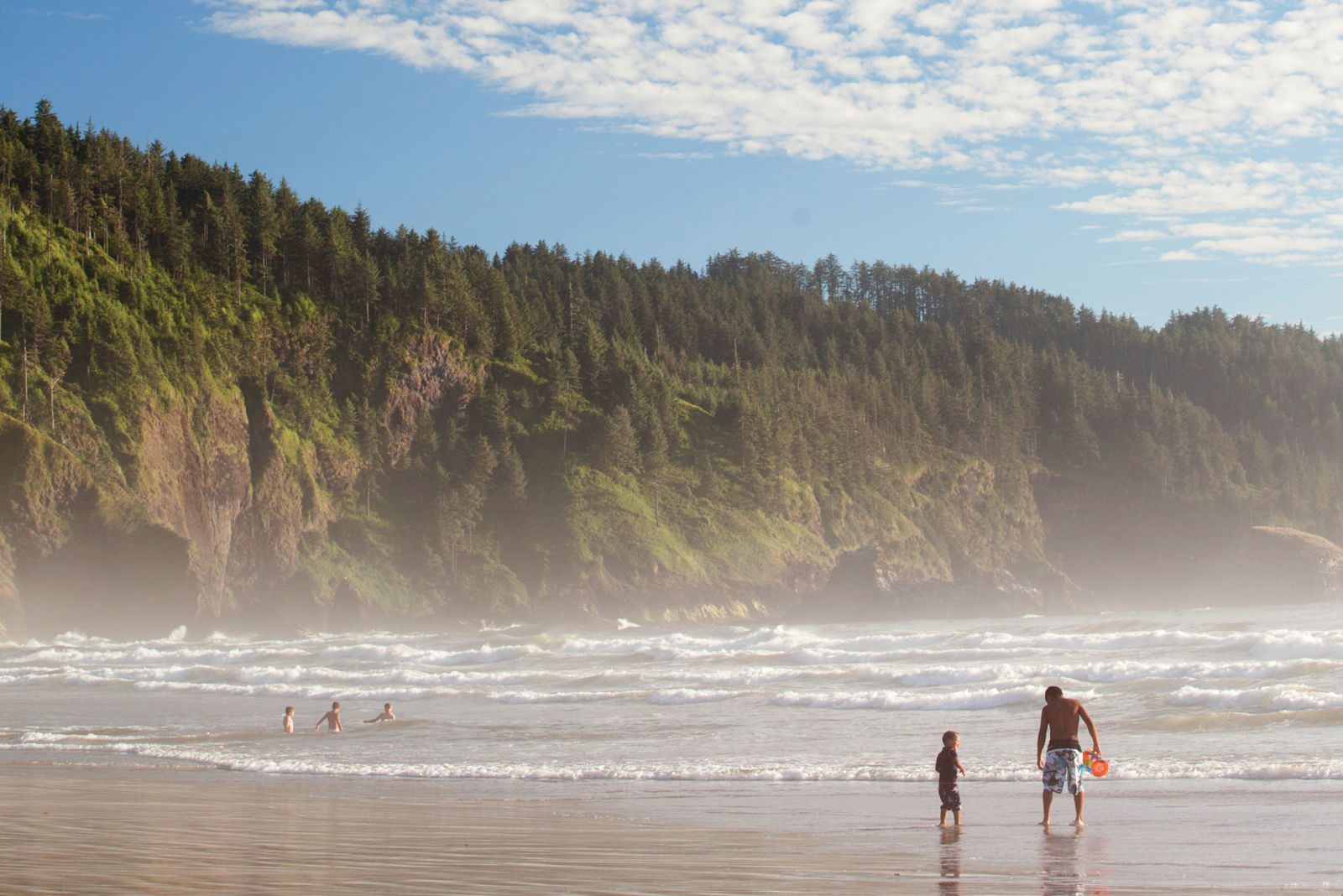 The Long Beach Peninsula
LEGEND HAS IT that some 170 years ago, California miners who'd struck gold would celebrate with the most luxurious menu item they could get: oysters shipped down from Washington's Willapa Bay, fetching more than $1 a shuck. (That would be, maybe, $30 today.) Call it the Long Beach Peninsula's own gold rush: one that transformed this sleepy stretch of coast into what Thandi Rosenbaum calls the "Hamptons of the West." At the turn of the 20th century, senators even built oceanfront manses there, like the one in Seaview Rosenbaum now owns and operates as the Sou'wester Lodge.
From here, you're just steps from the serene, pristine Discovery Trail; hike a mile or so north to the Adrift Hotel's Pickled Fish for Willapa Bay steamer clams and pints of North Jetty ale. Or head south on the trail to Cape Disappointment State Park and crab and pink shrimp at Jessie's Fish Company on Ilwaco Pier. No need to hike, of course; Highway 103 runs the length of this 99-mile-long spit, up through bucolic Oysterville to Leadbetter Point State Park. (Stop by Jack's Country Store in Ocean Park for your Washington State Parks Discover Pass.) Round out the day on the main drag of Long Beach, scarfing strudels and schnittens from Cottage Bakery while touring the mini-putts. As the sun sets over what's touted as the "world's longest beach," toast past largesse at the Victorian Shelburne Hotel; the owners of nearby Adrift recently updated the guest rooms and restored its Victorian tavern and restaurant. Order a cosmo with the house's own cranberry liqueur—an appropriate sipper to toast the peninsula's other big crop. (Learn all about #boglife at the Long Beach Cranberry Museum. Pucker up—it's free!)These days the lodge is more like a quarter-mile from shore (Rosenbaum says Washaway Beach, a bit farther north, is literally down here now) and surrounded by a few dozen vintage trailers (lodge rooms from $73/night, trailers from $193). Rent one for the night, and select dinner from the lodge's funky, friendly honor store: stocked with local beer and wine, a freezer full of protein, and all the salty and sweet snacks fresh sea air inspires.

Astoria
FISH, FINNISH SAUNAS, sea dogs, and dive bars: for decades, Astoria's brine-grimed charm seduced otherwise polite Portlanders. For Astorians living high on the hill, however, the rough edges (and crime) were less romantic. According to Dulcye Taylor, owner of downtown's Old Town Framing Company (and current mayoral candidate), many locals avoided downtown until the past decade.
So what happened? Astoria things! According to Taylor, in the '90s a group of local dudes—dubbed "Guys in Ties" or "Men in Suits," depending on who's remembering—exerted a civilizing effect at the riverfront's rough roadhouses by simply enjoying a pint in dapper silence. The next push came with a few names from the beer game you might recognize: Fort George, Buoy Beer, and now Reach Break and Hondo's(though the Wet Dog Café, now rebranded as the Astoria Brewing Company, predates them all). Today, Astoria nets visitors all the way from Upper Town's Astoria Armory roller rink (and basement skatepark) to Uniontown's grizzled Workers Tavern. (Friday is prime rib night, Sundays are "meat bingo.")
Make your berth across the Astoria Riverwalk at the Cannery Pier Hotel & Spa (rooms from $319/night); each spacious guest room here boasts a private balcony with up-close-and-personal views of oceangoing watercraft and the soaring Astoria-Megler Bridge. Or head a mile east, to the Commodore Hotel (rooms from $99/night), a renovated 1920s travelers' inn that makes up for its lack of soundproofing with access to new restaurants like Carruthers and former Portland chef Eric Bechard's impish Albatross & Co. (Think homemade li'l smokies and a devil's food cake "oreo.")
In the morning, grab zingy lemon bars and savory scones plumped with figs and brie at Pier 11's Naked Lemon. Then climb the hill up, up, up to the Astoria Column. Nab a tiny balsawood plane from the gift shop and let it float from the catwalk atop this monumental sgraffito-painted "flagpole." From here, see if you can peep the Astoria Tourist no. 2 floating off Pier 39; local activists (Taylor included) hope to get this circa-1920s working ferry back in action over the next few years.

Seaside
SEASIDE HITS a certain sweet spot for Coney Island nostalgics. For the past century-plus—ever since railroad baron Ben Holladay built an opulent hotel here back in 1871—inlanders have stretched like taffy along this narrow strip between sea and the Necanicum River. The whirly pops at Phillips Candies survived Depression-era sugar rationing; the private Seaside Aquarium has endured to now be the West Coast's oldest. Once, vacationers did the Lindy Hop at the Bungalow Dance Hall on Broadway. Now, shimmy onto a fiberglass ostrich—or shop for tchotchkes—at its replacement, the disco-era Seaside Carousel Mall. Just steps from downtown's beachfront Turnaround, geek out on bumper cars and tilt-a-whirl at Interstate Amusement Co, followed by a pit stop at Norma's for clam chowder and an old-school sourdough-and-Tillamook grilled cheese. (Definitely don't try it the other way around.)

But Seaside's retro appeal, too, is getting a reboot. Here, on the main drag, find the original brick jailhouse (and city hall) repurposed as Seaside Brewing—all well-appointed balconies and killer fish tacos. Around the corner and adjacent to Beach Books, Dough Dough Bakery offers Scandinavian-inspired olees (like buttery jam scones) and lovingly crafted lunches. Since 2015, Ashore Hotel (rooms from $140/night) has provided swanky modern lodging in a renovated motel; amenities here include a cozy saline pool, sauna, and shortlist of brews and biodynamic wines at the bar. (For a shot of local color, try boozing at the shake-shingled Bridge Tender two blocks away.)

Cannon Beach
THE NATURAL TONIC for Seaside's spinny sugar high is nine miles south in stunning Cannon Beach. Here, the tide pools near iconic Haystack Rock are essentially a free aquarium. And just north, of course, are the sweeping vistas and misty ferns of Ecola State Park. The whole of Cannon Beach's Hemlock Street is clad in calming New England–style shake shingle—the better to rest up for the most civilized booze crawl on the North Coast. First, stop in and smell the wort at the two-year-old Public Coast Brewing Co (the blonde ale here won big at the World Beer Cup) before strolling south to sample Cannon Beach Distillery's aromatic gins, rums, and whiskies. (Across the street, grab maple bars at the Cannon Beach Bakery—or nab taffy pulled from an ancient machine at Bruce's Candy Kitchen.)