Astoria: The Rare, Four-Season Family Destination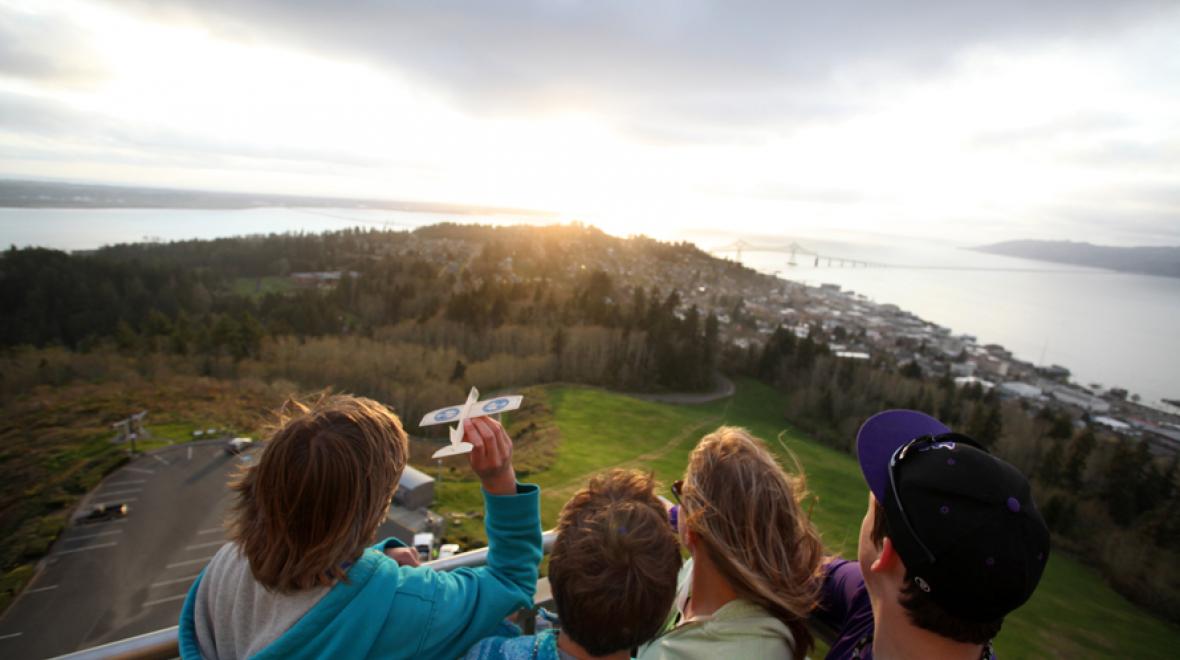 You can climb up the 164 steps of the 1926 Astoria Column in any season | Don Frank Photography
If you're looking for a three-day trip for the whole family within driving distance of Seattle — one you can take every season of the year — you can't do much better than Astoria, Oregon.
The traditional fishing town and first European settlement on the Pacific has that rare combination of great year-round activities, fun cultural and historic sites, iconic movie cred, a killer brewery scene and just about every other element family travelers yearn for in a destination. No matter if you're a water baby who aches to be near the sea or a landlubber set on waterfront adventures, Astoria is proof that you don't have to travel far to feel like you're in a whole new world. And with a flurry of new activity in downtown retail, on the food scene and in local activities, Astoria shines brighter than ever for a family or a couples' getaway.
Lightship Columbia | Don Frank Photography
Spring: museums, ships and trails
There she blows! Spring heralds a season of outdoor adventure and a chance to pick and choose between compelling indoor history exhibits and rollicking outdoor activities.
The
Columbia River Maritime Museum
is a must in every season for its inspiring and comprehensive exhibits on the local history of taking to the sea, but spring brings a new roster of 3-D movies to its programming (it is a separate ticket from museum admission). Don't miss visit the Lightship Columbia docked outside, where 17 Coast Guard lived, worked and saved lives.
At
Fernhill Glass
,
you can watch gaffers work or join in on a class or one-on-one instruction to make your own paperweight or ornament.
Mix outdoor time and history at
Fort Clatsop State Park
, set inland on the Lewis and Clark River. Take a half-mile trail just next to the Visitors Center, or choose the same 6.5-mile trail that Lewis and Clark's Corps of Discovery forged from the fort to the sea through woods, fields and dunes after building the fort in the winter of 1805-1806.
The city's hilly streets are made for house hunters, but the one to visit is the
Flavel House Museum
, once home to the city's founder, John Jacob Astor, and a gorgeous replica of America's take on Victorian architecture.
Frite and Scoop | Don Frank Photography
Can't-miss festival:
The Astoria Warrenton Crab, Seafood & Wine Festival
,
which happens the third weekend of April, is not a fantastic place for small children, but older kids can handle the crowds and the fun of picking at the crab feast.
Kid-friendly restaurant:
The local favorite
Beach Burrito
has customizable options as well as a giant indoor play center for kids, where you can duck out of spring's finicky weather.
Grown-up pleasure:
A full city block is given over to the impeccably designed
Garden of Surging Waves
,
a site that pays homage to the thousands of Chinese immigrants who helped build Astoria and worked the hardest jobs in its factories (great for teens, too, and easy with kids).
Ziplining in Warrenton | Don Frank Photography
Summer: Goonies, ziplines and beachy-keen fun
Hey, you guys! Summer is glorious in Astoria, offering lots of waterfront walks, beachcombing at nearby strips of sand, and loads of adventures.
At the
Oregon Film Museum
, families can create their own short films in front of three green screen sets, or find a favorite image from the
Goonies
gallery. Grab a Baby Ruth — Sloth's favorite snack from the movie — in the gift shop. Choose your own idea of select a scene from movies made in Oregon like
Kindergarten Cop
,
The Goonies
or
Free Willy
(improvise or select a scene from a movie made in Oregon to reenact).
Peter Iredale Shipwreck. Photo credit: Don Frank Photography
The annual
Goonies Day is June 7
, with
events inspired by the seminal '80s family film
, in locations such as the iconic
Goonies
house, the Clatsop County Jail and the Haystack Rock in Cannon Beach, from behind which the movie's pirate ship emerged in its final scenes. Events happen all weekend.
At Fort Stevens State Park, explore the
Peter Iredale Shipwreck
, a shipping vessel that was blown onto the shore in 1906.
For older kids,
High Life Adventures
, located just four miles away, in Warrenton, zips you along eight lines, from 15 ft. to 75 ft. off the ground, across a lake and through a canopy of trees (check website for restrictions); while
Discover Paragliding
offers tandem rides over Sunset Beach.
Astoria Scuba & Adventure Sports
can get you trained and geared up for underwater exploration, or try stand-up paddle-boarding on the Lewis & Clark River, the Seaside Estuary, the Skipanon River or other mild-moving waterways, with the
Clatsop Paddle Company
.
Discover Paragliding | Don Frank Photography
Can't-miss festivals:
The Astoria Music Festival
(starting June 10) brings an extraordinary list of soloists, operatic performances, chamber music and more for a three-week, all-city event.
Kid-friendly restaurant:
There's only one real option at
Bowpicker Fish & Chips
(you guessed it), but it's a seminal experience to climb in the grounded fishing boat for beer-battered albacore tuna and thick-cut steak fries and eat in the ship's parking lot.
Grown-up pleasure:
The range of artistic media presented at
Riversea Gallery
astounds – look for the happy family scenes of Carol Aust or the kinetic sculptures of Bend artist Chris Cole (tour without children).
Oregon coast | Don Frank Photography
Fall: Coffee, roller rinks and trolley rides
Fall brings crisp winds from the sea and lots of opportunities for coastal outdoor adventures and cozy indoor learning.
When the rains set in, hit up
Coffee Girl
at Pier 39, also home to a free, self-guided Cannery Museum with an antique cold storage facility fascinating to children.
Bring your skates! The
Astoria Armory
hosts community roller skating on Friday nights.
Plan to join one of the ranger programs at
Fort Stevens State Park
, a beachy peninsula just southwest of Astoria – mushroom forays, birding hikes and clean-ups happen most weekends.
The covered 1913
Riverfront Trolley
runs all weekend in good weather along the waterfront, passing by many destinations for travelers – hop on between stops or ride the full ride for the view. If it's rainy, you're protected but you can still spend time outside.
Can't-miss festival:
The last weekend in September, the
Pacific Northwest Brew Cup
stages a family-friendly event with food carts, all-day music, activities for kids and beer from craft brewers and cider makers throughout the Northwest.
Kid-friendly restaurant:
New kid on the brewery scene
Buoy Beer
will accommodate your family graciously and with delight, and everyone will love the kid-friendly menu and fun atmosphere in a revamped cannery right on the river.
Grown-up pleasure:
The city's best cocktails are at
Albatross & Co. Restaurant & Bar
, and it's worth sending parents separately by themselves just for the experience.
Purple Cow Toys | Don Frank Photography
Winter: Storms, sweets and shops
Make like local Norwegians and celebrate the dark months. Winter brings great storm-watching, moody river views, and — since rain won't scare you — great sweet spots to duck out of the deluge.
You can climb up the 164 steps of the 1926
Astoria Column
in any season, but winter is a great time to warm up little bodies for an expansive view of the mouth of the Columbia River. The park has a parking fee (annual permit) of $5 per vehicle.
If it pours while you're there, Astoria Parks and Recreation offers programming for all ages and facilities including an
Aquatic Center
, the
Port of Play
for little ones.
Ducking in shops between raindrops is easy with kids in downtown Astoria: Check out stores like
Tweentopia
,
Curious Caterpillar
,
Foxgloves
,
Lucy's Books
,
Purple Cow Toys
, and
Cargo
.
If you have time to kill after dinner, don't miss the downtown
ARC Arcade
, which has old favorites like Pac-Man, The Avengers, Street Fighter, and Super Mario Bros. in addition to air hockey, Skee-ball and other classic games.
Can't-miss festival:
The Fort George Brewery
Festival of the Dark Arts
, happening mid-February, takes over an entire block for a celebration with fire dancers, tarot card readers, tattoo artists, belly dancers, cigar tents, old fashioned photography, live music and more than 60 Northwest-brewed stouts on tap.
Kid-friendly restaurant:
Options abound at
Fort George Brewery
, whose downtown location has both a downstairs full menu and an upstairs wood-fired pizza menu in addition to its ever-changing list of regular brew on tap, seasonal beers and occasional experiments gone right. More yeast wafts from right next door at vegetarian-friendly
Blue Scorcher Bakery & Café
.
Grown-up pleasure:
Most coastal cities attract an artistic community, but few are at the level of legitimacy as Astoria, which has an international art scene. Carry the little ones through
Imogen Gallery
, which displays a careful selection of artist inspired by the confluence of river and sea.
Hitting the beach trail | Don Frank Photography
Astoria: where to stay
Cannery Pier Hotel & Spa:
Set in a refurbished canning factory right on the Columbia River, Cannery Pier Hotel is the prime choice for romantic couples and families with school-age children and older. Free cruiser bikes for rolling around town, a nice gym and daily wine tasting make it a standout, but the chance to have a driver of a 1950s Chevy cruiser deposit you downtown is the cherry.
Holiday Inn Express:
Located right on the Columbia River, this moderately priced hotel gives you a pristine view of the Astoria-Warrenton bridge and the giant ships that float down it. A great option for families with infants.
Comfort Suites Astoria:
With downtown access to the Riverwalk, a biking and walking path along the Columbia River, the Comfort Suites is perfect for families who want to stay in the thick of things but still have some room. Walk to the Columbia River Maritime Museum, Buoy Beer and other riverfront sites.