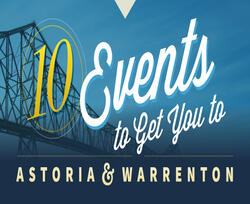 10 Events to Get You to Astoria and Warrenton
Due to COVID-19, local businesses, lodging properties, tourist attractions, and outdoor recreational parks are following the CDC's guidelines for social distancing and adhering to the state's indoor and outdoor mask mandate.
Please find the most up-to-date safe travel information here.
- - -
Referred to by many as "Little San Francisco," the Astoria and Warrenton area of Oregon is a treasure trove of historic sites, craft breweries, crave-worthy food and coastal culture that's a little bit eccentric. Use this list of events as a reason (10, actually) to book your trip today.
1.
In Their Footsteps Lecture Series
January-May, July-December 2020
On the third Sunday of the month at 1 p.m., this speaker series is an opportunity to gather with scholars, authors, and artists for a lively conversation inspired by history, people and culture. This forum is sponsored by the Lewis & Clark National Park Association and presented in the Netul River Room of Fort Clatsop's visitor center, and is free of charge.
1.
Festival of the Dark Arts
/ Stout Month
February 15, 2020
Cheers to 28 days of darkness with specialty stouts at various breweries throughout Astoria and Warrenton. The pinnacle of the month is Fort George Brewery's Festival of the Dark Arts, one night of fire dancers, tarot card readers, tattoo artists, belly dancers, live music and more than 60 creative stouts on tap from around the Northwest.
2.
Fisher Poet's Gathering
February 28 - March 1, 2020
Fishermen and women gather from across North America to share their wind-blown and weathered stories of life on the briny deep. Performances include emotional poems, rowdy readings and powerful prose inspired by the salty seas.
3.
Crab, Seafood and Wine Festival
April 24-26, 2020
Seafood lovers, sip and savor the Oregon North Coast's world-class bounty and wine. With more than 180 vendors, the festival showcases artisan producers, local seafood and homegrown craft breweries.
4.
Tenor Guitar Gathering
May 29-30, 2020
World renowned tenor guitarists gather for a weekend of "plucky" performances, jam sessions, trolley rides, activities, singing and workshops that have included "tenor guitar for the absolute beginner" and a "cigar box tenor guitar-making class."
5.
Astoria Music Festival
June 2020
Featuring top talents from the likes of the NYC Metropolitan Opera, enjoy three weekends of classical, opera and chamber music performances and ensembles at the historic Liberty Theater.
6.
Astoria Regatta
August 2020
The longest running tradition since 1897, festivities include regatta races, parades, Coast Guard demonstrations, fireworks over the Columbia and tours of hillside homes fully restored to their Victorian splendor. Spend the weekend, tour ships and museums, and enjoy other maritime traditions.
7.
Pacific Northwest Brew Cup
September 2020
One of Oregon's best kept beer secrets, more than 40 regional brews plus food and family-friendly entertainment equals an Oktoberfest vibe sans the long lines along Astoria's historic waterfront.
8.
Astoria International Film Festival
October 2020
Showcasing independent filmmaking from around the world, an array of films – from documentaries to feature-length – are screened at the 1925 vaudeville-style Liberty Theater.
9.
Great Columbia Crossing
October 11, 2020
Lace up for the only opportunity of the year to cross the mighty Astoria-Megler Bridge, the longest continuous truss bridge in North America, on foot.
Ready to book your trip? Explore
Astoria and Warrenton lodging
options and even more
things to see and do
while you're here!