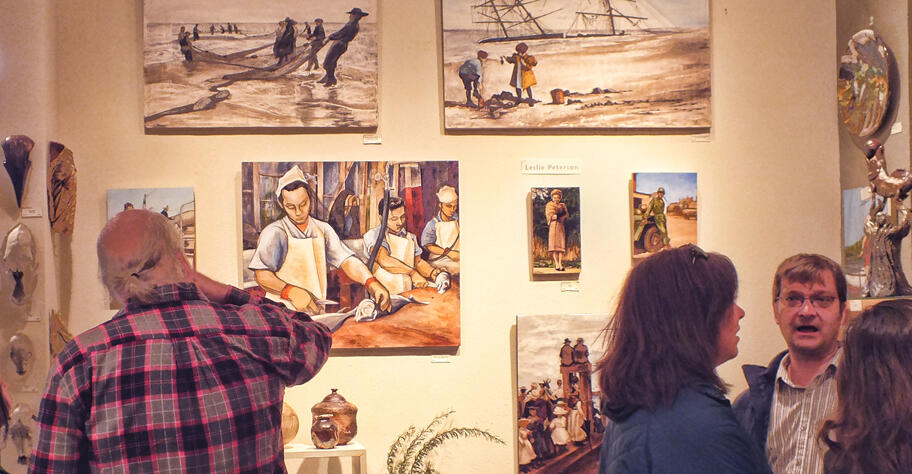 A Creative Soul's Guide to Astoria and Warrenton
Growing up in Astoria in the 1960s, Jeff Daly had what could easily be called an idyllic youth. Life was wrapped around those classic small-town weekends. There was bowling with his friends and their dads, saunas at the Union Town steam baths, and roller skating at the rink to the sounds of a massive pipe organ.
As an early teen, Jeff and his buds would sometimes hop on the ferry (this was pre- Astoria-Megler Bridge days) and ride back and forth all day between Washington and Oregon. The cost was a quarter per trip.
At around 14, Jeff discovered cars, which – although he didn't realize it then – would become a life-long passion that drives him to this day. "At one point, we had as many as 20 vehicles in and around the shop," he recalls." "There were Model T's and old roadsters. We'd find rusted abandoned cars, bring them home and revitalize them." It was a hobby his parents didn't mind seeing him indulge. Instead of being out on the streets getting into trouble, they knew that Jeff was most likely inside the garage until all hours, working on his latest cruiser.
When it came time to figure what he wanted to do with the rest of his life, Jeff got stuck. He thought about staying in Astoria and working in a cannery or on a logging crew. He even thought about becoming a fisherman, but his first day as a sea-sick deckhand on a crab boat sealed that deal.
Attending Clatsop Community College, an empathetic professor introduced him to the art department, where his discovery of photography found a passion. A few years later Jeff talked himself into a TV camera job at KATU-TV in Portland, and two years later was in San Francisco chasing the police scanner as a TV news photographer.
It was there, in the summer of 1977 while having lunch waiting for a news conference to begin, that Jeff was thrown into the middle of a major national news story. Gun shots had rung out across the street at City Hall, and the facts quickly unfolded: Mayor George Moscone and city supervisor Harvey Milk had been gunned down by a disgruntled employee. Jeff watched the mayhem unfold from behind the lens of his news camera. His footage can be seen in the feature film, "MILK."
Soon after, Jeff left the news game and formed a video production company. He shot documentaries, including one at a small start-up company in Silicon Valley called Apple. CBS hired him to shoot 14 Masters golf tournaments, the Final Four, Super Bowls, World Series and The Olympics. Jeff earned two Emmy's and a Peabody Award for his contributions.
Then, 30 years after packing up his beloved woody station wagon and heading out of town, Jeff "retired" and returned to Astoria. He saw his hometown in a whole new light. "I just realized what an amazing place this is," he remembers of that homecoming. "They say you can't go back home again… well, I did."
Jeff's creative spirit and love of the arts had found a new home. When he returned, Jeff picked up his still camera and found a rich tableau in and around Astoria. He has rescued and restored pieces of Astoria's past, like the 1923
Astoria
sign that illuminates Carruthers Restaurant in downtown. For Jeff, the art of Astoria is not a finite canvas, but rather the ever-evolving culture and creative community that the city welcomes.
There was another passion that was rekindled with his return: a love of vintage cars. One is particularly close to his heart: the Astoria Clown Car. It was the original 1948 Chrysler that a group of Astoria boosters (including his dad) drove around in the 1960s to promote Astoria and the building of a bridge to Washington. They were the leaders of the parade that crossed the Astoria-Megler bridge when it was dedicated.
As years passed the car was sold off and ended up rusting away in a field in Eastern Oregon. Jeff found it and after two years of negotiations brought it back home, where today he elicits smiles as he drives it (backwards no less) to the delight of locals and visitors.
Reflecting on how he would describe himself as an artist, Jeff grins and says it's the art of whimsy that drives him today: "I just love making people laugh."
Here are a few of Jeff's favorite ways to enjoy the creative side of Astoria and Warrenton, with a camera, a sketch pad, or just a penchant for discovery.
Where to Get Out
Mouth of the Columbia River
The viewpoint from the South Jetty is an amazing sight where you can watch two of the world's most powerful bodies of water collide.
14th Street Viewing Station
Watch the bar and river pilots climb wood and rope ladders transporting ships on the Columbia River.
Young's River Falls
It's such beautiful place to shoot photos, especially when it's been raining and the falls are at full throttle.
Oregon Film Museum
A must-see if you're a fan of one of the many movies that have been shot in and around Astoria.
Where to Eat & Drink
Frite and Scoop
Treat yourself to some magic ice cream at this classic parlor on the waterfront.
Astoria Coffeehouse & Bistro
A great place to hang out with my creative friends for a cup of Joe or a cocktail outside in the summer.
Where to Stay
One of the four "theme" rooms designed by Jeff at the
Astoria Riverwalk Inn
.
Special Places for the Art Lover
Take a selfie in front of the
Hotel Elliott
standing on the sidewalk with great neon lights as a backdrop.
Find any reason to attend an event at the
Liberty Theater
.
Sit in the little park outside of
Imogen Gallery
for some serious people watching during the monthly
2nd Saturday Art Walk
.
Browse through a world of curated curiosities at the
Museum of Whimsy
.
www.travelastoria.com
@travelastoriawarrenton
#astoriaoregon #warrentonoregon