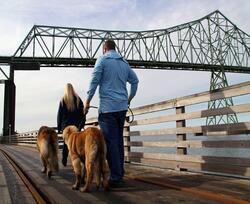 A Dog Lover's Guide to Astoria and Warrenton
Due to COVID-19, local businesses, lodging properties, tourist attractions, and outdoor recreational parks are following the CDC's guidelines for social distancing and adhering to the state's indoor and outdoor mask mandate.
Please find the most up-to-date safe travel information here.
- - -
Can't imagine taking a vacation without your precious pup? You're in luck. Astoria and Warrenton, Oregon are dog-friendly destinations. Some of our top attractions, restaurants, state parks and hotels allow you to take your furry best friend along for the adventure; all you must do is pick up after your pooch and bring a sturdy leash. Read on for our top picks.
Walk and Wag Along The Waterfront