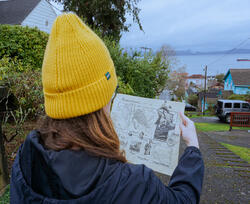 A Solo Traveler's Guide to Astoria and Warrenton
Whether it's across the country or venturing to a city nearby, traveling alone can seem extremely daunting, but we promise the leap of faith is worth it. Solo traveling to destinations, such as the North Coast, can create liberating, eye-opening, and easy-going experiences for any explorer looking for a chance to discover themselves and the world around them. Sampling delicious seafood, browsing local stores, and crafting a self-made schedule near the coast has never sounded more appealing! Thus, we've listed some of the best endeavors + explorations to tour solo in Astoria and Warrenton and welcome readers to pick and choose the wonderous activities that resonate with them.

Cozy Up with Local Cafes + Bakeries
Traveling solo in this area has its perks, and one of them is enjoying quiet mornings and afternoons in unique coffeehouses with stellar views or grabbing a fresh and delicious pastry on your own time. For javaphiles, head to Astoria's Coffee Girl and enjoy an espresso while taking in charming views of the Columbia, or visit Red Leaf Organic Coffee while you're exploring Warrenton. Visitors can also grab a quick pick-me-up at drive-thru locations like A-Town Coffee.
Have a sweet tooth? Swing by local bakeries such as Jambot Donuts for a delicious treat or The Nest Bakery (located near Sunset Beach) to devour a fresh cinnamon roll. Whatever you're feeling that day, Astoria and Warrenton are here to provide. For a full list of coffeehouses and food-to-go, click the link here for more of our favorites.
Treat Yourself to Locally Made Goods
Astoria prides itself as a walkable city presenting dazzling boutiques and storefronts curated to anyone's interests and hobbies. Take yourself on a trip into the Astoria Downtown Historic District and browse artisan goods, handmade garments, and artistic creations guaranteed to catch anyone's eye. Additionally, if your visit falls on a Sunday from Mother's Day through mid-October, stroll on over to 12th Street to visit creative vendors at the Astoria Sunday Market.
Below we've provided a broad range of shops in Astoria to get you started, but readers can view a more extensive list of stores in both Astoria and Warrenton by clicking here.
Tour Instagram-Worthy Top Attractions


Photo courtesy of @thatoneadventurecouple
While in Astoria and Warrenton, bright cityscapes and maritime views will allure solo travelers to fall even more in love with the area. As you create lasting memories on your journey, why not capture a photo or two along the way? Not only do the area's landmarks make for intriguing history, but you'll also find them handy for stunning vistas.

Don't know where to start? View a couple of our suggestions below or click the link here for a full list of everything there is to see + do in our coastal cities.

Astoria:

Warrenton:
Go All Out with Trendy Restaurants and Breweries
Since Astoria and Warrenton are specifically known for their extensive breweries, growing community of big-talent chefs, and spectacular seafood restaurants, it goes without saying one of the biggest must-dos on a solo trip is taking advantage of the delicious grub. Check out the nightlife by hitting up snazzy bars like Blaylock's Whiskey Bar, The Knot Bar, or Bar 600 at the Cannery Pier Hotel for a luxury cocktail. You can also fill up on mouthwatering seafood cakes at Bridgewater Bistro or enjoy fresh pasta at either Fedé or Fulio's Pastaria if that's more your style. Wherever you choose to go, we're sure you'll be raving about it back home. Check out our directory here, which includes other restaurants, cafes, and food carts.
Explore with Guided Tours and Activities
Too many options to choose from? Perhaps you're looking for a planned itinerary for the day! Below, we've listed guided tours and self-directed activities to do alone or in a group setting:
No matter if you're looking to get out of the house or need to recharge yourself, Astoria and Warrenton welcome you with open arms, and we can't wait to see you in town.