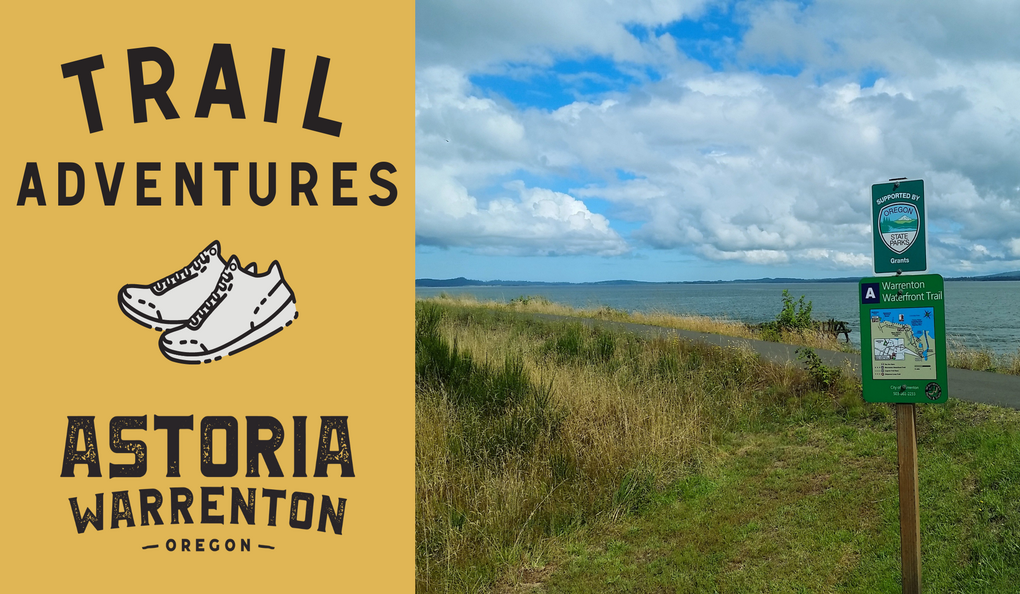 Astoria and Warrenton Trail Adventures
THIS PAGE IS A WORK IN PROGRESS. CHECK BACK ON NOVEMBER 1 to sign up for the NEW Astoria and Warrenton Trail Adventures pass.
Let's go outside and explore!
Astoria and Warrenton are home to dozens of outdoor spaces with plenty of room to spread out, breathtaking views to behold and opportunities to connect with nature. Most of our trails are suitable for beginners and can be a great way to spend an hour or most of the day. Any time of year is great for exploring the trails, if you are prepared for how weather may impact the trail surface and you've dressed appropriately for the rain, wind or sun. (Go ahead, jump in a puddle just like when we were kids!) Each season brings with it a change in scenery as birds migrate in and out of the area, foliage drops or blooms, and the wildlife is dynamic. Bring the family, plan a date day, or pencil in a solo adventure to relax among the trees, listen to the rhythm of the water and breathe it all in.

Sign up for the Astoria and Warrenton Trail Adventures Pass and use it as your guide to find and conquer some of the most loved trails in our area.
Here is what to expect when you sign up for our Astoria and Warrenton Trail Adventures pass.
Each trail location includes:
the name of the hike

Length, type of trail, difficulty level

Trail Description and highlights

Instructions about the trail head including parking and restrooms.

a link to an authoritative website for each trail

driving directions to the parking area to access the trail (the "Map" link takes you to the parking area)
If there are options for making trails easier or more challenging, we've included those modifications in the trail description. Please keep in mind hours of operation at certain parks and trailheads are subject to change. Day-use fees may also apply at select areas. Please visit the trail's website or call ahead for details. Please make sure to read trail-specific rules at the trailhead or on their website, to do your part in keeping our trails clean and available to everyone. Stay safe, be kind and have fun.
As you read about the different routes, here are some handy definitions, from All Trails, to keep in mind:
Loop Trails
: Start and end at the same location and follow a single trail or multiple trails to form a loop.
Out-and-Back Trails
: Start and end at the same location and follow a single trail or multiple trails to an end point and then return along the same route. The length listed is for both directions.
Point-to-Point Trails
: Start and end in different locations. These routes can be done as an out-and-back or you can arrange transportation on the other end. The length listed is for one direction.
All trail distances provided are for the total length of the mapped route. For example, a 5 mile loop, or out-and-back trail, is 5 miles total from start to finish.
Easy
: Most of our trails are easy, with mild to no elevation changes, making them more accessible to new and young hikers.
Moderate
: You've tackled the easy hikes, now start pushing yourself a little more. While you'll still find shorter hikes, overall, the mileage starts increasing, the elevation changes become more pronounced, and you'll start working up more of a sweat on these.
Difficult
: We have not included any trails on this list that are considered difficult. If you'd like more of a challenge, we suggest exploring a little further into the north coast region to visit
Saddle Mountain State Natural Area
, Tillamook Head Trail at
Ecola State Park
or
Oswald West State Park
with Neahkahnie Mountain and Cape Falcon hikes.
Use this guide, trail adventures pass and website information at your own risk. In using the information, you agree to hold AWACC free from any and all liability.
Trails Etiquette and Best Practices
Whether you're a seasoned hiker or brand new to getting outdoors, we've got you covered with what you need to know to get started and enjoy the best of Astoria and Warrenton's trails. When you explore, leave no trace behind, and keep the trails better than you found them for the next person to enjoy.
Learn more about the seven principles of Leave No Trace
.
Be prepared.
Bring everything you need to stay safe and comfortable including drinking water, snacks, and a first aid kit.
Bring a map as cell phone service may not be reliable on all trails.
Check the weather and dress appropriately for the condition. Rain gear is helpful during the winter rainy seasons and sun protection including sunscreen, hat and sunglasses during the summer months. Consider wearing sturdy walking, hiking or running footwear.
Some walkway surfaces can be slippery when wet and icy.
Watch for hazards such as downed trees, insects, nettles or other plants that can cause a skin irritation, large wildlife or flooding from tides or heavy rains. Always let someone know your plans and stay in touch if they change.
Be considerate.
Trail safety and courtesy encourages you to yield to other users as appropriate.
Pack it in, pack it out.
Preserve the park: leave rocks, plants, streams and other natural objects as you find them.
Please stay on designated trails and roads for safety and to prevent resource damage--tread lightly!
Dogs are great companions for the trails. Please keep them under your control, leashes are required in many parks and trails. Do not allow them to harass or harm wildlife or people. Clean up after your pets and pack out their waste.
For more trail info while you're in town, look into:
Angora Hiking Club
Everyone is welcome to join the Angora Hiking Club hikes, members and non-members! The AHC members plan usually four hikes per month and the schedule of group hikes is listed at
angorahikingclub.org
.
It all began on July 4, 1920 when 18 members of the Knights of Pythias hiked to the top of Saddle Mountain. At the summit, they read the Declaration of Independence and sang the Star Spangled Banner and other patriotic songs. They renamed themselves the Angoras meaning mountain goats, and the hiking club was born.
Northwest Coast Trails Map and Guide
The NW Coast Trail Map & Guide is a comprehensive guide to outdoor activity in the Lower Columbia River region.
Sponsored by Clatsop County Public Health and numerous partners and produced by Adventure Maps, this new map illustrates walking, hiking, cycling and equestrian routes and trails, as well as paddling and wildlife-viewing destinations, with the goal of promoting healthy, outdoor activities for residents and visitors and highlighting our region's natural assets. The waterproof and tear-resistant map includes basic information on recreational opportunities and data on the regional climate. And in addition to the region-wide map, there are detailed inset maps of particular areas. These smaller maps are available for free download as pdf files. The NW Coast Trail Map & Guide is available for purchase for $11.99 at the Lewis and Clark National Historical Park visitor center and the Astoria-Warrenton Area Chamber of Commerce.

Northwest Coast Trails Coalition
Northwest Coast Trails Coalition (NCTC) took shape as a regional collaboration serving to connect communities through non-motorized trails in Northwest Oregon and Southwest Washington. Originally formed as the Warrenton Trails Association in 2004, it was re-named in 2015 to Northwest Coast Trails Coalition. It was founded with the intent to cooperatively plan, build, maintain and promote a well-connected and easy-to-use system of multiuse, non-motorized recreational trails. NCTC advocates a healthy, walkable community and encourages people to enjoy this multiuse trail system with connections between neighborhoods and cities, providing access to recreational and historic sites throughout the region.
<link rel="stylesheet" type="text/css" href="https://experience.travelastoria.com/css/checkout/persistent-cart/persistentCart.css"><style>#open-cart {display: none;}</style><script src="https://experience.travelastoria.com/js/checkout/persistent-cart/persistentCart.js"></script><script>bwpcart.offerId = 2607;bwpcart.partnerId = 369;bwpcart.checkoutUrl = "https://experience.travelastoria.com";</script>

<div class="bwmodule" data-bwmoduleid="41629"></div>
<div class="bwmodule" data-bwmoduleid="42746"></div>
<div class="bwmodule" data-bwmoduleid="41630" data-bwassignmentid="2607" ></div>