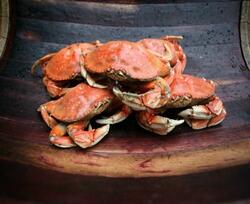 Astoria-Warrenton Crab, Seafood & Wine Festival
Due to COVID-19, local businesses, lodging properties, tourist attractions, and outdoor recreational parks are following the CDC's guidelines for social distancing and adhering to the state's indoor and outdoor mask mandate.
Please find the most up-to-date safe travel information here.
- - -
Can it get any better than a weekend of fresh-caught Dungeness crab, seafood and wine? Actually, it can at the Astoria-Warrenton Crab, Seafood and Wine Festival. In addition to the bounty offered by the region's salty seas and nearby vineyards, the festival features dozens of local vendors showcasing arts, crafts and gifts – on top of the wide array of delicious food and drink. From family-friendly activities to adults-only wine and beer tasting (including 4 oz. tastes and 12 oz. beers available at each brewery booth), there's plenty of fun to be had all weekend long.
The Crab, Seafood and Wine Festival takes place every year on the final, full weekend in April.
2020 Crab, Seafood and Wine Festival Information
Where:
Clatsop County Fairgrounds, 92937 Walluski Loop, Astoria, OR 97103
When:
Cancelled, see notice below.
Cost:
Ticket prices vary; more details
here
You can find more details about this year's festival on the official event webpage, including ticket info, a list of vendors and a list of shuttle stops, or follow the Facebook page, both of which will be updated each year in advance of the festival.
Can't make it out the weekend of the Crab, Seafood and Wine Festival? You can still get your fill of delicious Oregon Coast seafood and local wine year-round! Check our list of places you won't want to miss for
the ultimate seafood and wine weekend
, or find other
things to see and do
in Astoria and Warrenton.
- - - - - - - - -
March 16, 2020 - Media Announcement
Cancellation of the Astoria Warrenton Crab, Seafood & Wine Festival
The Oregon Health Authority has confirmed 39 positive cases for COVID-19 in the state. Oregon Governor Kate Brown has issued a moratorium on all public gatherings of more than 250 people statewide for four weeks, and the Centers for Disease Control and Prevention is recommending that all gatherings of more than 50 people be canceled or postponed for the next eight weeks. This community mitigation effort is considered one of the most effective means of containing COVID-19 transmissions. We urge our community members to take protective measures against COVID-19 such as washing hands frequently, staying home if you are sick and implementing social distancing measures.
Due to this ongoing public health situation, the 2020 Astoria Warrenton Crab, Seafood and Wine Festival has been canceled and will not be rescheduled this year.
In consideration of the current state and federal recommendations and potential health risk that our vendors, volunteers, contractors and attendees could face in April, our staff and board of directors felt that canceling this event would be our best course of action. The Festival, held annually since 1982, was to take place April 24-26, 2020 at the Clatsop County Fairgrounds and would feature 175 vendors of hand-crafted arts, coastal cuisine, Oregon wine and local beer. The Festival is a major fundraiser for not only our organization, but dozens of others that participate in the event, as well as hundreds of small businesses from our vendors and performers to hotels, restaurants and shops in the region. By canceling this event now, we felt that everyone involved would have a better opportunity to mitigate lost income from the event rather than waiting until nearer to the event.
We will make every effort to continue to support our business community during this economic slowdown and encourage you to join us. Thank you for your patience and support as we navigate this difficult situation together.
For future updates, please visit our website (
www.oldoregon.com
)or visit our Facebook page (
www.facebook.com/AstoriaWarrentonChamber/
).
###
Additional questions? Contact David Reid, our executive director, or Kelsey Balensifer, our event manager, at (503) 325-6311.