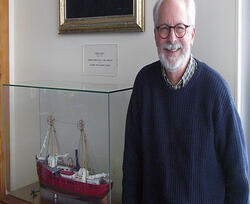 Barbey Maritime Center's Sam Johnson
Most people looked at the old Astoria Railroad Depot and saw a neglected building. But Sam Johnson, executive director of the
Columbia River Maritime Museum
in Astoria, saw promise. "The depot was going to fall down if nothing was done with it. You had to wear rose-colored glasses to see what it would be like," he says.
With that vision, Johnson helped imagine a place filled with the sounds of wood working and the smell of cedar, pine tar and beeswax — a hands-on activity center focusing on Oregon's maritime culture. With his leadership, the
Barbey Maritime Center for Research and Industry
was born.
Housed in the newly renovated depot on the Columbia River Maritime Museum campus, the new center is named for a local family with a long history in the salmon packing industry. Johnson says the center's focus on maritime skills will complement the museum, which interprets and preserves Oregon's maritime past. "The Barbey Maritime Center completes the story," he says. Beginning in May, the center will offer classes in maritime skills like woodworking, boat building and net making.
Part of the Barbey Center curriculum will be distinctly Native American. "Northwest Native Americans were predominantly maritime tribes. Almost everything they did had some relation to the oceans of the North Pacific," Johnson says. Members of the Chinook Tribe will teach students to make Northwest Indian canoes, paddles, baskets and other traditional arts. Wasco Tribe members will demonstrate how to make dip nets like those used at Celilo Falls.
As a boat builder himself, Johnson is particularly excited about the center's antique nail making machines — the only such remaining in North America. The machines produce a type of copper nail that has been used in boat building for 2,000 years (think the Vikings), but are now only produced by a single manufacturer in England.
Johnson's own love affair with boats began when he was a boy in California. He became fascinated with boat building while getting his doctorate in marine biology at Stanford University, and took advantage of the nearby Monterey Bay Boatworks. "I liked the romance of the boats, the shapes of them. I liked the complexity of the process."
During his long career teaching at Clark University in Massachusetts, and later working for the Nature Conservancy, the Oregon Historical Society and the Oregon Health Sciences University Foundation, Johnson traveled around the world studying boat building, teaching the craft and collecting books on the subject that make up his 4,000-plus volume library.
Clearly, his current position is a good fit. "My passion and my interests are boats and maritime culture," he says. And through The Barbey Center, he'll help bring that sense of excitement to others working with their hands and connecting to the past. "Books can't teach you how to do hand skills. Many of these things you have to do," he says. "I think it is important for us to understand how things are done."