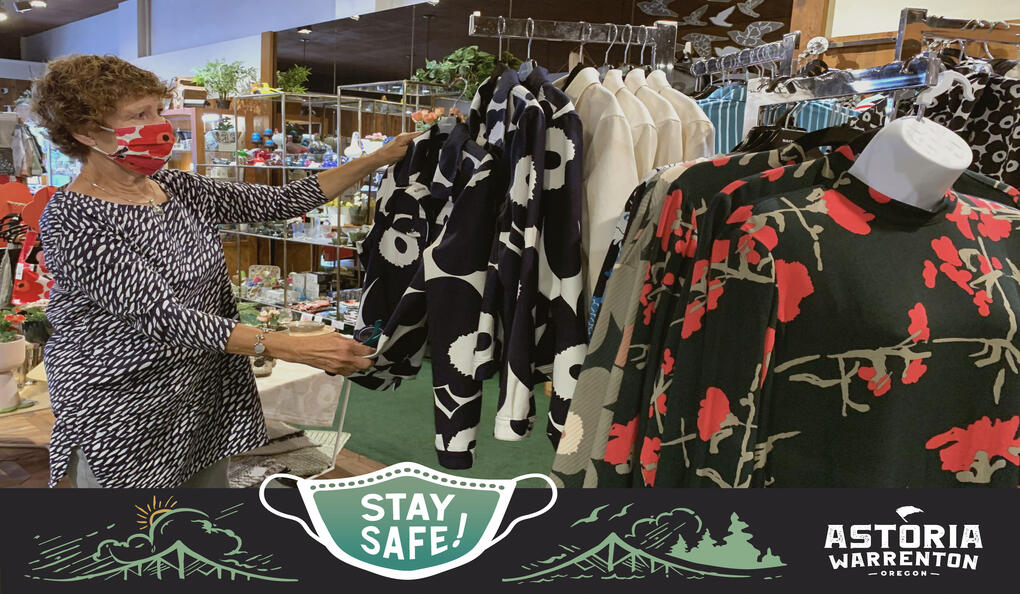 COVID-19 Travel News
Updated on January 15, 2021:

Effective January 15 through 28, Clatsop county will be in the Extreme Risk level. This will impact many industries and businesses including a requirement that all restaurants will close their dine-in options and operate as take out and delivery only and indoor recreation facilities are closed (like museums and gyms.) Retail stores may continue to operate at limited capacity. See more details on resturants, retail, attractions and lodging below.


Updated on December 3, 2020: County Risk Levels and Activity Guidance
Governor Brown announced updates to county risk levels under the state's new public health framework to reduce transmission of COVID-19. The framework uses four different risk levels for counties based on COVID-19 spread—Extreme Risk, High Risk, Moderate Risk, and Lower Risk—and assigns health and safety measures for each level (click for guidance chart). You can learn more about the risk levels and activity guidance on the state's COVID page.
Astoria and Warrenton are located in Clatsop County. Risk levels will be updated every two weeks, with a one-week warning period to provide time to anticipate any change to guidance based on changing levels.
***

U
pdated on November 19, 2020
Dear residents and visitors,
Joining the effort to keep everyone safe, Astoria and Warrenton are subject to the statewide Two-Week Freeze to stop the rapid spread of COVID-19 across Oregon from November 18 to December 2. These new limitations are in response to the concerning increase in infection, hospitalization and deaths related to COVID-19. Social gatherings are limited to no more than six people total, from no more than two households – indoor and outdoor. Face coverings are required statewide in
indoor public spaces or in outdoor public spaces when physical distancing is not possible.
This new mandate will affect business operations and your experience in the area. Below you can find updated information on the new restrictions and resources
regarding Astoria-Warrenton restaurants, lodging, attractions, and outdoor recreation sites
.
Restaurants and Shopping (

U

pdated on January 15, 2021)

As of January 15, 2021, all restaurants will close their dine-in options and operate as take out and delivery only. If you order take out, please call ahead or order online so it is ready for you when you arrive for pick-up. Here you can find a list of restaurants

and bars offering take out and dine-in options

(find more information on restaurant protocols here).
Retail stores and malls (indoor and outdoor) are limited to 75% capacity and should encourage curbside pick-up (find more information on retail store protocols here).
Grocery stores and pharmacies are limited to 75% capacity and should encourage curbside pick-up.
Most shops and businesses in Astoria are staying open and finding unique ways to keep their customers and staff feeling safe. Check with them about their options for shopping online, curbside pickup or private shopping appointments in addition to being aware of limited capacity inside the stores.
Attractions (

U

pdated on January 15, 2021)

Indoor recreational facilities, museums and attractions are to remain closed until further notice. See below for detailed list of what's open and close, or check out more information here.

Currently closed:

Astoria Riverfront Trolley

,

Liberty Theater

(offering virtual events and tours),

Astoria Underground Tours, Columbia River Maritime Museum (The Museum Store is open for shopping by appointment. Email anderson@crmm.org to set up a time)

,

Flavel House

,

Clatsop County Heritage Museum, Oregon Film Museum,

High Life Adventures

(

book reservations online for future tours

),

Fort Clatsop Visitor Center and Fort Replica, Fort Stevens Historic Military Museum.

Partially opened:

Astoria Column Park and Gift Shop

(Column itself is closed),

Hanthorn Cannery Museum

(

self-guided exhibits at Pier 39 are accessible with face covering required).
Outdoor Recreation and Parks

The Two-Week Freeze directs people to limit gatherings, including outdoors, to no more than six people total, from no more than two households until December 2. Visitors should continue to wear face coverings and give plenty of space to other guests.

Fort Stevens State Park

: Oregon State Parks, campgrounds and day use areas including beach access, trails, disk golf and batteries will remain open. While outdoor or open-air group areas are still open at this time, we do ask that visitors observe these rules while using them. Indoor facilities like meeting halls will be closed until at least Jan. 31, 2021.

All yurts, cabins, and deluxe yurts will all be closed through at least Jan. 1, 2021.

Lewis and Clark National Historic Park

: Although the Fort Clatsop Visitor Center and Fort Replica are closed,

Netul Landing and hiking trails are open from dawn to dusk and the Visitor Center parking gate is open from 9 a.m. to 5 p.m.
Playgrounds, trails and skateparks are open but there is a limit to parties no more than six people and ensure individuals are maintaining at least six feet of physical distance between parties on hiking trails, beaches, playgrounds or at parks (find more information on outdoor recreation protocols here).
Lodging

As of November 13, the state of Oregon travel advisory urges against non-essential out-of-state travel, asking people to self-quarantine for 14 days after arriving from another state or country, and encourage residents to stay local. Oregonians are encouraged to stay home or in their region as much as possible. Non-essential travel includes travel that is considered tourism or recreational in nature. You can find more information here.
We ask that everyone be patient as our businesses adapt to and comply with changing safety guidelines.
For now, we encourage you to support your community by using take-out options, curb-side deliveries or purchasing gift cards to help support local businesses.
We look forward to welcoming you again when it is safe.
Thank you for your support.
Sincerely,
Regina Willkie
And the Astoria-Warrenton Area Chamber of Commerce Staff
Visit
Travel Oregon
for additional COVID-19 travel alerts.