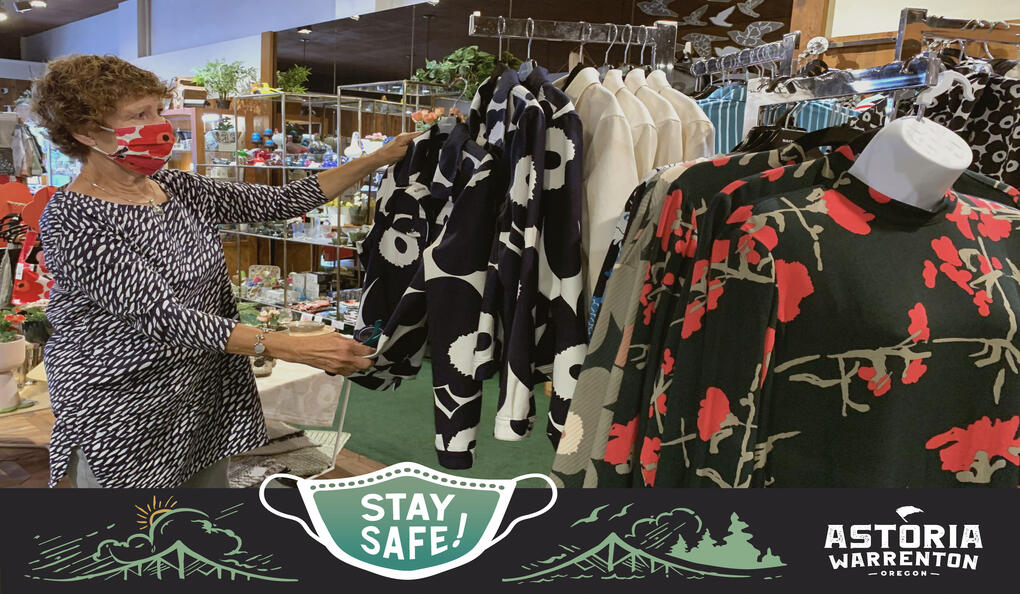 COVID-19 Travel News
Effective March 12, 2022:
Masks are No Longer Required in Most Indoor Public Settings
As of Saturday, March 12, indoor masks will no longer be mandatory in the state of Oregon in most settings. Other state and federal requirements, such as those for health care settings, public transit, and other specialized settings, will remain in place for a period of time. State officials highly recommend that people in high-risk groups continue to wear masks in indoor public settings even after the restrictions are lifted. Click here to read more from Oregon Health.

The Astoria Riverfront Trolley is considered public transit and will continue to require masks to ride as long as this federal rule is in place.

For some that aren't quite ready to get rid of their masks, that is understandable and we expect to see a number of businesses still requesting that their staff or customers wear them. We encourage you to keep your face covering close as we go through this transition period while individual business policies shift.

Please visit Travel Oregon for the most current COVID-19 travel alerts and updated state guidelines.
***
We know how important travel is to our well-being, and how eager we all are to have the new experiences a trip can bring. We are honored when you choose our beautiful area as a destination to explore. Your business means everything to us and so does your kindness.
We hope this message will help you gather a sense of what to expect when you visit and how you can best prepare before hitting the road. Whether planning your first vacation since the pandemic closures began, or your fifth, here is what travel looks like in Astoria and Warrenton, as well as across the state of Oregon.
It may feel like the pandemic is over, but local businesses are still adjusting to changing regulations, workforce challenges and increasing crowds. During your trip to the Oregon coast, please be adaptable and ready for a change of plans here and there.
Our restaurants, hotels, and other businesses have endured a lot, and most are struggling to hire enough staff to operate at their normal summer capacity. Some restaurants have had to remove seating or reduce hours because they do not have the staff to do more and still provide great food and service.
Likewise, hotels are less likely to be able to accommodate early arrivals or late check-outs as their housekeeping teams are stretched thin. Please be flexible with your plans and do not take your frustration out on the staff. Just like you may be feeling yourself, many of these team members have been working hard with few breaks and are feeling the effects.
As always, our residents appreciate your courtesy when you are guests here in our home of Astoria and Warrenton. Please be aware of your surroundings, follow posted signs and treat this environment with respect.
We are pleased to welcome you back and appreciate the understanding and flexibility you will lend to our community and other visitors.
Thank you for all your continued support. Have fun making memories!
Sincerely,
Astoria-Warrenton Area Chamber of Commerce
Some activities in the great outdoors are prone to start fires and there are some fire protections and restrictions in place during the dry summer season to help prevent wildfires. Check with
Oregon State Parks
and
local forestry and fire agencies
for tips on how to resposibly manage a campfire or other fire hazards, and to know when fires are banned or restricted.
Consider these small changes to the way you travel - and in your everyday habits.
Pledge to visit responsibly and observe the Code of the Coast.
Travel mid-week or wait to come until this fall and winter for lesser crowds.
Have a back up plan. Identify an alternative option for a trailhead that has no more parking available or a restaurant that is at capacity.
Dine during non-traditional times, call ahead for a reservation, or opt for take-out.
Traveling in a large group? Split up and eat at two restaurants.
Bring a roll of toilet paper in case the public restroom you visit is out.
Find a centralized parking spot and walk to the day's destinations.
Check out the local transit options for car-free travel.
Bring gloves and a bag to pick up trash along the riverfront while you wait to get into a museum or restaurant.
Send one person on behalf of your group, like to check in at the hotel or to grab road snacks at the store.
Keep your personal trash with you to throw away when you get home, rather than using streetside bins.
Be mindful of your surroundings and join us in reducing the impact of visitation on natural areas by staying on marked paths.