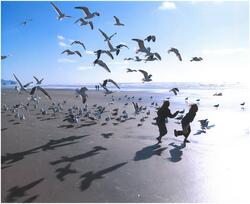 Explore Oregon's North Coast Beaches
We all know the saying about the calm before the storm, but there's also usually a calm
after
the storm – which happens to be one of the best times for beachcombing. This makes winter and early spring the best times of the year for discovering natural treasures at the Oregon Coast. While intact shells and sand dollars are rare finds, the 18 miles of long, flat beaches from Fort Stevens to Seaside offer up driftwood, beach glass, and occasionally agates and fossils.
In addition to keeping beach safety in mind, always show respect when exploring Oregon's North Coast beaches and riverfronts. Try to leave some beachcombing bounty for others, and help keep our coast clean by collecting and disposing of any litter you see, or
reporting
any large or potentially hazardous debris.
Oregon's North Coast Beaches Exploring Checklist
Check the tide table, weather report and any severe weather warnings before you go.
Wear layers (and sunscreen), including a waterproof shell, and be prepared to get caught in a storm.
Bring a towel and/or beach blanket to sit on, keep you dry or keep you warm when the wind picks up.
Bring rubber gloves and a small bucket for your beachcombing treasures.
Stock your car with extra water, snacks and a flashlight – just in case!
Always observe beach safety best practices. Be aware of sneaker waves, and never turn your back on the ocean.
Most importantly, have fun! And if you need a respite from a storm, there is plenty to keep you busy in Astoria and Warrenton on even the rainiest of days. Visit one of our award-winning museums, see a movie, or head to the arcade or bowling alley. Explore more things to see and do in Astoria and Warrenton
here
.