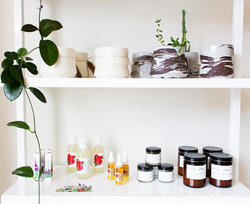 Find Your Treasure in Astoria, Oregon
Whether you seek souvenirs or aim to tackle your holiday shopping list head on, you'll find something for everyone (even yourself!) in Astoria, Oregon's
shopping district.
Easily walkable, the shops span Astoria's downtown core from 8
th
Street to 17
th
Street.
As you wander and window shop in Astoria, Oregon, you'll discover many more gems than are listed here. Be sure to stop at others along the way that catch your eye. If your visit falls on a Sunday from Mother's Day through mid-October, you can stroll through dozens of booths brimming with art, crafts and culinary creations at the
Astoria Sunday Market
that takes over 12
th
street downtown from 10am to 3pm.
Pat's Pantry – Wide variety of herbs, spices and handcrafted blends featuring gourmet salts, oils & vinegars, and condiments with an emphasis on local suppliers.
Pilot House Distilling – Small craft, local distillery that offers tastings and bottle sales of its award winning spirits including vodka, gin, whiskey, rum, absinthe and coffee liqueur.
Josephson's Smokehouse – Family-owned smokehouse with variety of specialty smoked seafood from salmon jerky to canned seafood and more.
Gimre's Shoes – Wide selection of casual, work, or weekend wear from the oldest family-owned shoe store on the west coast. Gimre's

strives to carry large sizes in shoes, boots and socks with up to size 17 in men's and size 12 in ladies.

M & N Workwear –

Family owned and operated local store that brings you clothing, and footwear tough enough to withstand the rough and rugged Pacific Northwest.
Lucy's Books – Small neighborhood bookstore with wide selection for children and adults.
Cargo – Authentic, handmade objects and irreverent international curiosities from artisans and merchants from Guatemala to Vietnam, from the Philippines to India, and from Mali to Indonesia.
Columbia River Maritime Museum – Nautical novelties such as toys, t-shirts, games and more from the gift shop & bookstore located in the popular museum.
Young at Heart Papercrafting - The local

headquarters for scrapbooking, cardmaking, stamping, art kits and more. Stop in to explore a new hobby or find more supplies.

Short Wave - Brings together the work of independent makers from across the Pacific Northwest with fun and functional items.
Astoria Vintage Hardware – Source for repurposed and reclaimed treasures for your home and garden, featuring antique doors, hardware, windows, molding, bath and light fixtures, artifacts, etc.
Jonathon's LTD – Collection of vintage and heirloom jewelry, diamonds, art and antiques.
Phog Bounders Antique Mall – Space with 25+ dealers with a large variety of salvaged vintage items, knick knacks, furniture, signage, clothing and more.
Old Things and Objects - C curio shop that has many kinds of collectibles for every kind of interest with antique to the modern collectible. We offer nautical, art, records, books, souvenirs, jewelry, and more!
We hope you enjoy the small businesses and locally-owned boutiques and shops we have to offer. If you're looking for something more specific, you can find the full list of businesses
here
.