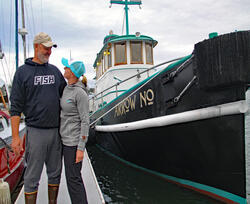 Fresh Crabs and Maritime History: A Perfect Pairing at the Mouth of the Columbia River
Written by Jennifer Burns Bright

On a recent Saturday morning, the fog was lifting on the Columbia River, and dramatic clouds billowed overhead. As we cut through the waves northward to the Pacific, the soft green expanse of the four-mile Astoria-Megler Bridge disappeared, and the forested hills of the Coast Range shrunk in the distance. Soon, it was just us, seabirds, and a few scattered fishing vessels.
We were fishing, too, but instead of anchovies or salmon, we were on the hunt for native Dungeness crabs. The mere mention of these delicacies makes Oregonians' mouths water, especially when the weather grows colder and the seas rougher, and crabs are at their largest size, full of succulent meat.
Even better, we'd booked one of the only charters that offer crabbing adventures all fall and winter, and what a gem it was! Arrow Tugboat & Tour Company, which specializes in historic tours of the working waterfronts along the lower Columbia, was happy to take us out on the Arrow No. 2, a 53-foot tugboat that spent most of her career from 1962 to 2012 making an estimated 250,000 trips to transfer pilots to guide ships across the dangerous Columbia Bar and upriver. Current owner and captain Mark Schächer, a former employee of the company that once owned the boat, had lovingly restored her over four years and returned her to home waters.
Though it seemed we had cut a straight line through the gentle waves, I knew that under the water's surface the topography was complex, with a shifting mosaic of sand and rocks that created shallow areas and troughs that could be treacherous for any boat. But Captain Mark knew the dangers like the back of his hand, so I wasn't a bit worried.
We had met that morning at the private marina on the Skipanon River in Warrenton, prepared with rain gear and our shellfish licenses (see regulations and license info here). After a tour of the engine room below deck, the climate-controlled wheelhouse, and the all-important head, we were ready to nab up enough for a giant feast. The deck was stacked with twelve crab pots, large wire traps baited with fish bits that would lure in the crustaceans crawling on the riverbed.
As the crew, headed up by Captain Mark's wife, Jeanette, dropped the pots into place, Mark explained the Arrow No. 2's remarkable 50-year history. We watched a slideshow of his original research of over 100 stunning historical photos of Astoria's working waterfront on a big screen. He laughed at what he called "all my boring history," but it is anything but.
After a couple of hours, it was like Christmas. We pulled up pot after pot, and landed our limit of 12 keepers each. When we disembarked, all the crab was cooked in a vat of salty water right there on the dock before we loaded it into coolers filled with ice.
The crab was excellent fresh off the cooker, and we ate our fill that evening. For the rest, we chose a historic recipe by Portland and Gearhart native James Beard, America's first celebrity chef, to honor the day's tour. His deviled crab recipe, somewhat like deconstructed crab cake, makes a perfect Sunday brunch casserole, with buttery chunks of Dungeness infused with a shot of Tabasco and topped with panko breadcrumbs. My adaptation of his recipe can be found here.
While in Astoria, history buffs will also want to check out Astoria's excellent museums, including the Columbia River Maritime Museum and the stately Clatsop County Heritage Museum, which augment Captain Mark's tales of the working waterfronts. The Hanthorn Cannery Museum, located on the site of Astoria's oldest fish processing plant, is a warren of antique cannery equipment. If you're unable to get out on a crabbing charter, the adjacent Hanthorn Crab Company sells live and cooked Dungeness, along with other fresh seafood.

Read the full article here.