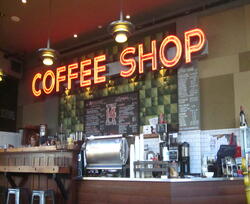 Jonesing for Java in Astoria and Warrenton
Due to COVID-19, local businesses, lodging properties, tourist attractions, and outdoor recreational parks are following the CDC's guidelines for social distancing and adhering to the state's indoor and outdoor mask mandate.
Please find the most up-to-date safe travel information here.
- - -
Astoria's working waterfront is fueled by its robust coffee scene. From drive-thru espresso huts to charming breakfast joints, there are plenty of places on Oregon's North Coast to get a great cup of Joe. Read on to learn about what's brewing in Astoria and Warrenton.
Astoria
3 Cups Coffee House
Featuring beans by local roaster
Columbia River Coffee Roasters
, 3 Cups is the perfect place to bring a book and savor espresso or visit with friends while you snack on a house-made pastry. As they like to say: "First cup you're a visitor. Second cup you're a friend. By the third cup, you're family."
Astoria Coffeehouse and Bistro
By day, Astoria Coffeehouse and Bistro is a bustling coffee shop and sit-down spot serving baked pastries, breakfast, lunch and Café Vita coffee. By night, it becomes an intimate bistro offering locally foraged fare. In addition to the coffee, make sure to check out the tasty selection of regional beer, wine and cocktails.
Blue Scorcher Bakery and Café
For something on the earthy side, head to Blue Scorcher Bakery in the Fort George Building. In addition to coffee drinks made with organic and locally roasted fair trade coffee by
Astoria Coffee Co.
, the café has an assortment of pastries and vegan menu items made with local, organic produce and ingredients. Snag a magazine from the eclectic rack to enjoy while you dine.
Coffee Girl
Stop by this little shop if you want a brew with a view. Located above the Columbia River on Pier 39 in a former Bumble Bee Tuna cannery (now a
museum
worth checking out), Coffee Girl's setting is awe-inspiring. Sip your java and slow down while you sync up with the flow of the river and marine life.
Downtown Coffee
Downtown Coffee in the heart of Astoria offers Panini sandwiches and breakfast burritos in addition to coffee and baked goods. They also offer a "Taste of Africa," featuring two ethnic dishes (usually a rice bowl and a soup) available daily.
Dutch Bros Coffee
We got the fix for those that crave this Northwest classic. Located on Astoria's main drag, Marine Drive, you can fuel up for adventures on your way in or out of town with your favorite drink or snack in hand.
Journey's End Espresso
On the go but in need a jolt? Journey's End Espresso drive-up shop carries Portland Roasting Coffee, smoothies, chai, specialty drinks, muffins, scones, cookies, breakfast sandwiches, and many other yummy pastries for when you're on your way in and out of town.
The Naked Lemon
When it comes to baking, The Naked Lemon offers the classics with a new spin whether you are seeking cupcakes, pie or macarons. Sip on a superb latte while you drool over the selection of goodies in the case or wander the neighboring antique stalls in the Pier 11 building.
Street 14 Café
If you're searching for some quality grub in addition to your daily latte, Street 14 Café sources sustainable, local food for its breakfast and lunch menus. In addition to Stumptown coffee, you can order delights like yogurt and granola with fresh fruit compote. Located in the same building as
The Commodore Hotel
, you can't miss the iconic neon sign.
Warrenton
Bohdan's Coffee, Wine & Beer
Drive up or enjoy the casual coffee house atmosphere of Bohdan's, serving Sleep Monk Roasters and crafting creative specialty drinks. Their food menu features local ingredients including Blue Scorcher bagels and Smokehouse Butcher Block sausages. Don't forget them during happy hour, or fill a growler to-go.
The Human Bean
Warrenton has its own Human Bean drive-thru just off Discovery Lane. Swing by and warm up with your favorite espresso drink or cold beverage from this Oregon-based coffee and tea bar.
Starbucks
For those searching for familiar comforts, you'll find the Starbucks with your favorite lattes, teas and more in Warrenton, including a drive-thru option to get you on your way to other adventures if needed.
We hope you find the kick you're looking for in Astoria and Warrenton's coffee scene. If you're on the hunt for additional coffeehouses and dining options that offer espresso drinks, look
here
.
www.travelastoria.com
@travelastoriawarrenton
#astoriaoregon #warrentonoregon