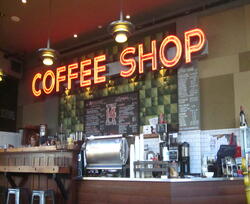 Jonesing for Java in Astoria and Warrenton
Astoria's working waterfront is fueled by its robust coffee scene. From drive-thru espresso huts to charming breakfast joints, there are plenty of places on Oregon's North Coast to get a great cup of Joe. Read on to learn about what's brewing in Astoria and Warrenton.
Astoria
A-Town Coffee
The only drive thru coffee shop on the south slope of Astoria. The menu features Longbottom Coffee, Lotus energy drinks, locally made treats, breakfast sandwiches and more.
Astoria Coffee Company
A small-batch coffee roaster located in "Uppertown", on the east end of Astoria, ACC roasts single-origin coffee beans from around the world and also create well-balanced blends. We also sell a variety of teas, spices, and chocolate at our brick-and-mortar location
Astoria Coffeehouse and Bistro
By day, Astoria Coffeehouse and Bistro is a bustling coffee shop and sit-down spot serving baked pastries, breakfast, lunch and Café Vita coffee. By night, it becomes an intimate bistro offering locally foraged fare. In addition to the coffee, make sure to check out the tasty selection of regional beer, wine and cocktails.
Blue Scorcher Bakery and Café
For something on the earthy side, head to Blue Scorcher Bakery in the Fort George Building. In addition to coffee drinks made with organic and locally roasted fair trade coffee by
Astoria Coffee Co.
, the café has an assortment of pastries and vegan menu items made with local, organic produce and ingredients. Snag a magazine from the eclectic rack to enjoy while you dine.
Coffee Girl
Stop by this little shop if you want a brew with a view. Located above the Columbia River on Pier 39 in a former Bumble Bee Tuna cannery (now a
museum
worth checking out), Coffee Girl's setting is awe-inspiring. Sip your java and slow down while you sync up with the flow of the river and marine life.
Columbia River Coffee Roasters
Roasting coffee since 1992, Columbia River Coffee Roasters is located under the Astoria-Megler Bridge. Look for their brews on the menu in local coffee shops around the area. Stop by their retail store to grab beans to roast at home, logo merch and maybe even a pastry.
Dutch Bros Coffee
We got the fix for those that crave this Northwest classic. Located on Astoria's main drag, Marine Drive, you can fuel up for adventures on your way in or out of town with your favorite drink or snack in hand.
Journey's End Espresso
On the go but in need a jolt? Journey's End Espresso drive-up shop carries Portland Roasting Coffee, smoothies, chai, specialty drinks, muffins, scones, cookies, breakfast sandwiches, and many other yummy pastries for when you're on your way in and out of town.
The Naked Lemon
When it comes to baking, The Naked Lemon offers the classics with a new spin whether you are seeking cupcakes, pie or macarons. Sip on a superb latte or fresh juice, while you drool over the selection of goodies in the case.
Warrenton
The Human Bean
Warrenton has its own Human Bean drive-thru just off Discovery Lane. Swing by and warm up with your favorite espresso drink or cold beverage from this Oregon-based coffee and tea bar.
Red Leaf Organic Coffee
Coffee beans are responsibly sourced from all around the world and roasted at their headquarters in Southwest Washington. Red Leaf offers their uniquely Canadian and Northwest themed drinks. Gluten free treats, fruit smoothies, and milk alternatives have been added to the menu to accommodate customer needs. (Located within TLC /Fibre Federal Credit Union and follow branch hours. Closed holidays and weekends.)
Starbucks
For those searching for familiar comforts, you'll find the Starbucks with your favorite lattes, teas and more in Warrenton, including a drive-thru option to get you on your way to other adventures if needed.
We hope you find the kick you're looking for in Astoria and Warrenton's coffee scene. If you're on the hunt for additional coffeehouses and dining options that offer espresso drinks, look
here
.
www.travelastoria.com
@travelastoriawarrenton
#astoriaoregon #warrentonoregon