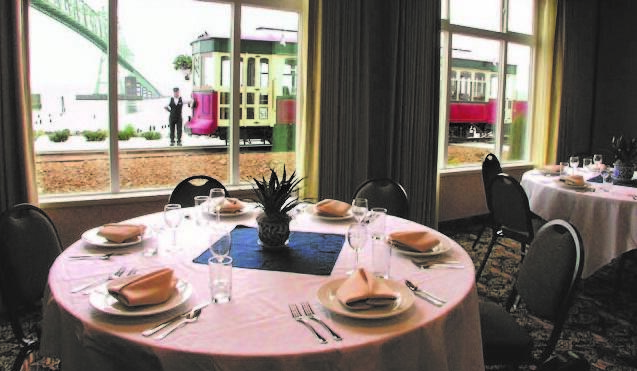 Meeting Spaces and Group Activities in Astoria & Warrenton
Due to COVID-19, local businesses, lodging properties, tourist attractions, and outdoor recreational parks are following the CDC's guidelines for social distancing and adhering to the state's indoor and outdoor mask mandate.
Please find the most up-to-date
safe travel information here
.
- - -
Are you the designated organizer in charge of planning group activities? You're in the right place. We've put together a list of meeting spaces, hotels, restaurants and activities for business retreats or travel pods hoping to take a trip to the North Coast. We have a lot to offer groups of various sizes looking for somewhere special to gather, make memories and create bonds.
Meeting spaces
(This is a sampling of venues available! You can find a complete list here):
Best Western Astoria Bayfront Hotel
Capacity: One conference room for up to 48 people

When you are looking for the best in local hotel deals, the lodging choices at the Best Western Astoria Bayfront Hotel are convenient, comfortable, and a great value. You can find hotel rooms for any travel type, whether you are visiting on business or with a large group or family. Conveniently located on Youngs Bay near Astoria's West Mooring Basin for fishing excursions.
Cannery Pier Hotel *
Capacity: Two distinct meeting spaces for 14-60 people

Looking for a space with a view? The Cannery Pier Hotel is an ideal location for any private meeting, retreat or celebration, and offers a backdrop of the Columbia River and Astoria-Megler Bridge. Located within minutes of world-class museums, boutiques, restaurants and galleries.
*Cannery Pier Hotel will be closed for renovations January 4, 2022 – April 1, 2022.


Comfort Suites Columbia River
Capacity: One event space suitable for up to 30 people

Best for small executive meetings and special occasions, this meeting space can be customized to specific needs and is equipped with AV set-up to ensure smooth meetings. Comfort Suites also offers good rates for room blocks.
Hampton Inn & Suites
Capacity: One large event space for groups up to 150 people

Located near historic Pier 39-Astoria, this riverfront property boasts one main meeting room that is great for large gatherings or can be split into smaller spaces. Hampton Inn & Suites has room block rates available.
Holiday Inn Express Hotel & Suites
Capacity: One large event space for groups up to 120 people

This Holiday Inn Express has lovely river views and offers both indoor and outdoor spaces ideal for work retreats or social gatherings seeking open-air options. Page header image is view from the Holiday Inn Express.
Liberty Theatre
Capacity: This venue has three unique event spaces. The auditorium seats 631 people, while the McTavish Room is ideal for 100 – 185 people, and the Paulson Pavilion can comfortably seat 120

The Liberty Theatre is a great location to consider for special events in Astoria. With beautiful, Venetian styling, this venue is a classy choice for wedding receptions, special occasions and more. Combination rentals with the theater auditorium are available should you want to reserve multiple spaces.
Open Office Astoria
Capacity: This office space has desks and workrooms available for 1-4 people, as well as a conference room that can comfortably seat eight

Located in downtown Astoria, Open Office is a great dog-friendly space available for daily, weekly, or even monthly rentals. Hi-speed Wi-Fi, complimentary coffee, a small kitchen and awesome river views are available to every tenant.
The Loft at The Red Building
Capacity: With room for up to 350 people, this is one of Astoria's largest venues

The Loft at the Red Building is a centerpiece of Astoria's iconic Riverwalk development. Thoughtfully renovated using reclaimed materials, the building is full of history and modern amenities. With room for up to 350 people, the space is great for any type of meeting, from a conference to a wedding reception. The majestic view of passing ships on the Columbia River aren't too bad either.
The Ruins at the Astor
Capacity: Large event space ideal for up to 200 people

Originally built in 1921, The Ruins at the Astor has had quite the history. Today, this unique property is the perfect venue for those looking for something photogenic, historic, quirky, and chic. Located within a three-block radius of plenty of local shops, breweries and eateries.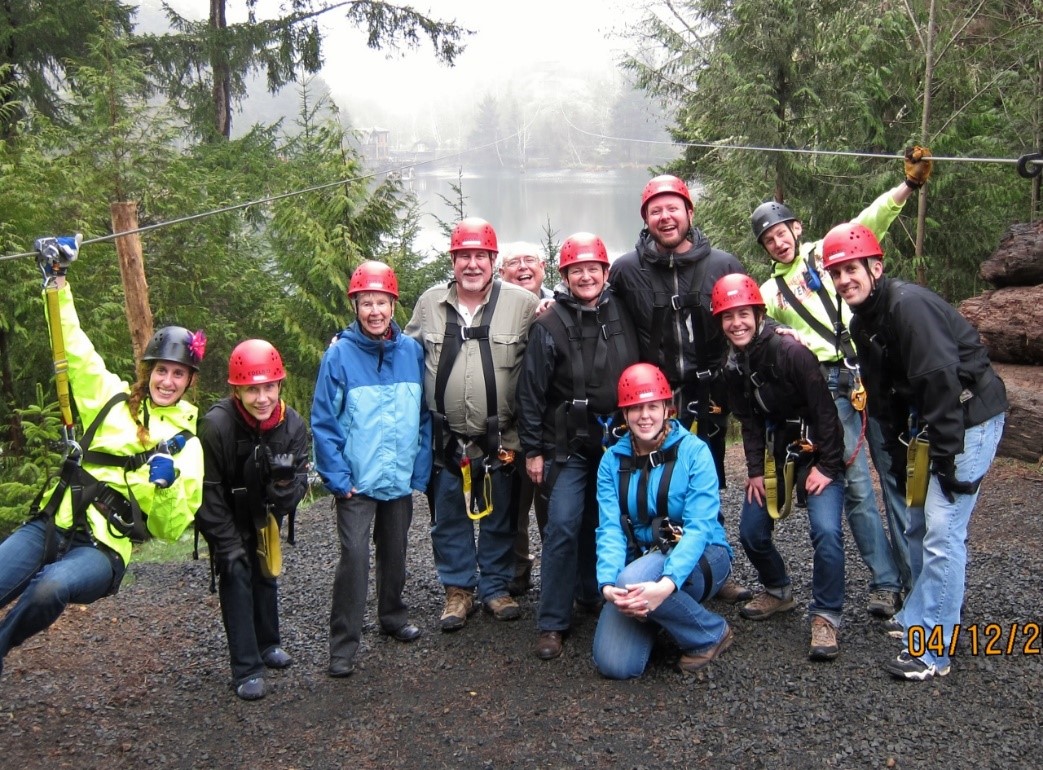 A group enjoying zip-lining at High-Life Adventures
Group-building activities:
Astoria Art Loft

This option is great to bring out the artist in everyone! Fused glass, drawing and watercolor painting classes are available for artists of all ages and experience.
Astoria's Underground Mall

Below the surface, in an underground village, a collective of local artists, makers and proprietors offer a unique experience for visitors that stumble down the stairs.
Astoria Underground Tour

Explore some of the oldest spots beneath the roads to hear from two locals about the untold stories the tunnels hold (and you may even run into some shanghaied spirits along the way).
Columbia River Cruises

Family owned and operated, this activity provides unparalleled access to the Columbia River on the Constance, a 41' yacht with first-class amenities and refined nautical charm. The tours aim to inspire visitors to take action in preserving the ecological and cultural richness of the region, while providing an enjoyable experience on and off the water.
High Life Adventures

Enjoy some of the best ziplining in Oregon and make lasting memories! No matter what your age or experience level, highly-trained guides will help you soar over a beautiful natural landscape, complete with seasoned timber, ponds and a seven-acre lake near Fort Clatsop. Want to stay grounded? Try axe throwing instead for a day of action-packed fun.
Fort Stevens State Park

Just 9 miles west of Astoria, you'll find this state park where you can check out both the coast and the mouth of the Columbia River. Within the park lies the shipwreck of Peter Iredale. Check out the Fort Stevens Loop to pass by an old shipwreck, long-standing artillery batteries, dune thickets and a coastal lake.
Wine Kraft

Gather and sip the region's tastiest vintages. Wine Kraft is a PNW specialty wine bar able to accommodate a wide variety of events, from casual buffets and tasting menus to live music events and "Tipsy Painting" classes.
The Knot

Come together for seasonal craft cocktails and imaginative bites. This bar/eatery is located inside the new boutique hotel, The Bowline Hotel located right on the Astoria Riverwalk and can seat up to 30 people at a table.

Whether it's your next work retreat or a much-needed multi-family vacation, Astoria is the solution to the "where should we gather?" conundrum.

@travelastoriawarrenton #astoriaoregon #warrentonoregon