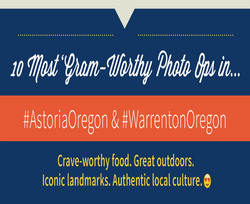 Most Instagrammable Spots in Astoria & Warrenton
You'll find enviable eats, brag-worthy backdrops, quirky local culture and the perfect selfie set-up around every corner in Astoria and Warrenton. Share your adventures using #astoriaoregon or #warrentonoregon to possibly be featured on the home page at travelastoria.com. And remember to respect public property and access, even in the midst of trying to get that perfect shot!
Astoria Column
Enjoy a bird's eye view of the region, or turn the camera on yourself for a windblown selfie.
Astoria-Megler Bridge
Look up, from the western end of the Astoria Riverwalk, for a shot of the longest continuous truss bridge in North America.
Astoria Riverfront Trolley
Hitch a ride to capture scenes from along the three miles of the trolley route, or explore further by foot on the Astoria Riverwalk.
Columbia River Maritime Museum
The giant anchor out front is just an introduction to the seafaring photo ops you'll find inside!
Flavel House Museum
One of the best-preserved examples of Queen Anne architecture in the Northwest. History buffs, home preservationists, or if you're simply in need of inspiration for a home remodel – this is your stop!
Garden of Surging Waves
Part picturesque art and architecture installment, part tranquil garden, the Garden of Surging Waves celebrates Astoria's Chinese heritage and the contributions of Chinese immigrants. And like many of our attractions, this location is just as stunning in the dark as it is in the daylight – come back at night for a new perspective!
Lewis and Clark National Historical Park, Fort Clatsop
Take your followers back in time via the reconstructed replica of Lewis and Clark's 1805-1806 winter encampment.
Oregon Film Museum
Nurture your nostalgia for Oregon-made films here, including
The Goonies
,
Kindergarten Cop
,
Free Willy
,
Into the Wild
and more.
Peter Iredale Shipwreck
The rusted skeleton of this 1906 shipwreck creates a stunning silhouette for your beach sunset photo.
Warrenton Marina
Amble along the water's edge where the Columbia prepares to spill into the Pacific, and catch commercial fishing boats coming to port. You can also catch commercial boats at Astoria's East Basin, or check out Hammond Marina or Astoria's West Basin to see more of the recreational and sports fishing fleet.