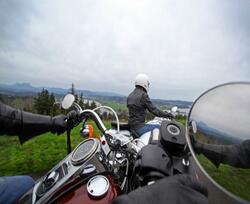 Pacific Northwest Road Trips, for 2 Wheels or 4
Life is as much about the journey as the destination, so the saying goes. With hundreds of scenic byways and tour routes, few regions offer the chance to discover highways and back-roads quite like the Pacific Northwest.
Astoria and Warrenton are a perfect launch point for a number of coastal road trip routes. The beauty of these courses, aside from the breathtaking views, is that they're a quick escape from Portland and Seattle to miles of unfettered roads with plenty of motorcycle-friendly pit stops along the way.
When you kick-start your adventure here, you'll be welcomed with rider-friendly
lodging options
,
world class seafood
and a burgeoning
craft beer scene
– exactly what you'll be craving (once you've parked for the night, of course). From there, chart a course along the coast via the Long Beach Loop or Highway 101 and its feeder routes using the itineraries below.
--
4 Reasons to Ride to Astoria & Warrenton
Coming by car? Wonderful. By bike? Even better. For everything riders look for in a road trip destination, all signs point to Astoria and Warrenton.
Stunning scenery
Whether your road trip begins in Portland, Seattle or somewhere else in the Pacific Northwest, the scenery en route to Astoria and Warrenton is awe-inspiring. With mountains, sparkling streams and over 60 native species of trees, all on your way to the stunning Columbia River mouth and Pacific Ocean, you'll have to remind yourself to keep your eyes on the road!
Maintained roads
Speaking of roads, they may get a little rainy or windy at times, but the roads are looked after, with up-to-date travel conditions offered by the
Oregon Department of Transportation
and
Washington Department of Transportation
.
Day/nighttime activities
After a few hours of riding, sometimes you want to park the bike and explore by foot. Whether your hobbies include
history
or
hiking
,
clam-digging
or
craft beer
, Astoria and Warrenton offer something fun for everyone.
Motorcycle-friendly lodging
Paved parking lots, wash stations and laundry service are just a few of the things that we know can make a big difference to bikers. In addition to motorcycle-friendly
hotels
, motels and
campgrounds
, a welcoming attitude is what you'll find in Astoria and Warrenton.
About the Long Beach Loop
The Long Beach Loop is designed around the 28-mile Long Beach Peninsula in Washington State, just north of Astoria and Warrenton. After reaching the coast, you could easily spend a day
exploring
the beauty and bounty of the peninsula beaches, grab a bite at restaurants like
The Depot Restaurant
, the
Shelburne Restaurant and Pub
or the
Crab Pot Seafood Market and Restaurant
. Or, continue to Astoria, where even more sightseeing and coastal adventures await.
From Portland, take either US-26 W to US-101 N into Astoria, or US-30 W to Astoria (both scenic routes), and set up your home base before continuing on to the Long Beach Peninsula. From Astoria, you'll take US-101 N to WA-103 N/Pacific Ave, which runs the length of the Peninsula.
From Seattle, take I-5 S to US-101 S, which meets WA-103 at the base of the Long Beach Peninsula. Once you've enjoyed all the Long Beach Loop has to offer, head across the stunning Astoria-Megler Bridge via US-101 S into Astoria for the night, for more
things to see and do
.
After you have your
coffee
in the morning, you won't want to head home before riding just a little further west, to explore the wildlife and historic landmarks awaiting you in
Fort Stevens State Park
.
About the Oregon Coast Highway
The Oregon Coast Highway, the Oregon section of U.S.-101 N, is revered by road trippers and photographers alike for its 363 miles of tree-lined, coast-hugging roads and spectacular views of the Pacific Ocean.
The Oregon Coast Highway includes three scenic byways: the
Northern Oregon Coast,
which takes you from Astoria to Pacific City, the
Central Oregon Coast, fr
om Pacific City to Bandon, and the
Southern Oregon Coast,
from Bandon to Brookings. Each stretch is about 3 hours of driving time.
From Portland, take either US-26 W to US-101 N, or US-30 W to Astoria. From Seattle, take I-5 S to US-101 S and continue across the Astoria-Megler Bridge into Astoria. We'd recommend exploring the many
things to do in Astoria and Warrenton
by day, and getting a good night's sleep before beginning your journey down the coast.
From Astoria or Warrenton, head south on U.S.-101 S to the coastal destination of your choosing! You can find more information about destinations and attractions along the way
here
.
--
What better way to welcome spring and summer to the Pacific Northwest than with the wind through your car windows or coming over your handlebars? On two wheels or four, whether you take an overnight trip around the Long Beach Loop or spend a few days exploring the Oregon Coast Highway, both routes provide a much-needed escape from the hustle and bustle of big city life.
Get tips from
past visitors
, find detailed
maps and directions here
,
browse lodging options
or
contact the Visitor Center
for more information on motorcycle-friendly businesses in Astoria and Warrenton.