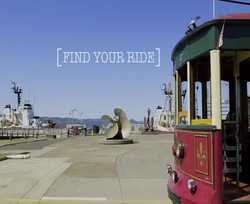 Ride the Historic Trolley
Ride the historic Trolley "Old 300" along the scenic Astoria Riverfront! Old 300 was built in 1913 by the American Car Company of St. Louis, Mo., for the San Antonio Traction Company in Texas. The Trolley is operated and maintained by a volunteer crew.
Pay $1 per boarding. Rise as long as you like. Or pay $2 and ride all day long.
Schedule changes seasonally. Visit
old300.org
for a current schedule and GPS link to locate it while its on the rails. Trolley operation is weather dependent.
Average round trip is about 1 hour. The trolley uses the same tracks going both directions, but the tour narration changes so be sure to stay on for the whole ride! This also means that the trolley passes through downtown twice during the hour round trip and is often your best bet for a shorter wait to board.
To board the trolley, head to one of several trolley stops located along the riverfront between Basin Street (near the Astoria Riverwalk Inn) and 39
th
Street.
Where is the trolley right now?
The Chamber of Commerce has equipped the Trolley with a GPS unit so that the trolley's location is broadcast to a website and we can get an idea of where it is and which direction it is heading. Click the image below to see a map showing the trolley's current location.