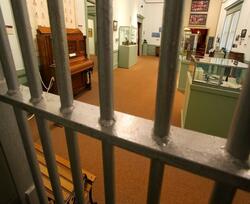 The Most Wicked Place on Earth
A Guide to the Sinister Side of Astoria
The year is 1877, and twenty year-old Richard Lewis opens his eyes, trying to place himself in what feels like a dark, damp cave. The last thing he remembers is having a great time at the Astor Saloon. Just as Richard was getting ready to head to his boarding house for a good night's sleep, the barkeep at the Astor Saloon poured a round of whiskey shots for everyone in the tavern, on the house. Richard hears men's voices and realizes that wherever he is, he's not alone. If he could just get the room to stop swaying…
Richard, like thousands of men who passed through Oregon between from 1850 to the 1950s, was a victim of
shanghaiing
– the practice of sending unwilling men out to sea, usually to serve on ships lacking full crews. In addition to being the oldest American settlement west of the Rockies, Astoria's streets tell tales of its rowdy adolescence as a fishery hub in the late 1800s. Visitors today can still go to many of the scenes of the crimes, literally, that earned Astoria its reputation as what one late 19
th
-century reporter called "the most wicked place on Earth for its population."
Astoria was established as a major shipping port and fishery hub due to its location at the Columbia River/Pacific Ocean estuary. Fishing near the mouth of the Columbia River offered sizable rewards, but was accompanied by great risk, attracting a large transient population that spawned the growth of saloons and brothels and contributed to the city's unruly nature. Let us be your guide for revisiting and reliving the dastardly scenes. Read more below to plan your tour through Wicked Astoria.
+
The first stop on your tour through Astoria's wicked history has to be the Clatsop County Historical Society's
Heritage Museum
. A gallery on the second floor of the museum is dedicated to
Vice and Virtue in Clatsop County: 1890 to Prohibition
, where you can view artifacts from the time period and try your hand at a game of roulette in the partially-reconstructed saloon.
The Heritage Museum building itself, designed in 1904, was originally City Hall, and the jail cells (still existent in the basement of the building, but not generally available for viewing) saw their fair share of crooked characters over the years. The museum also has arrest records dating back to the 1870's, listing the names of those arrested and their crimes. Visitors can flip through the records; those with family history in Oregon are occasionally even surprised to find the names and misdeeds of relatives in the books!
The Heritage Museum is located at 1618 Exchange Street.
From the safety of your couch or while sipping a beverage at one of our coffeeshops, visit Facebook and take a peek into
Sara's Old Photos
. Here, you can flip through hundreds of photographs of the Lower Columbia River region from as far back as the early 1900s. Sara has some of her collection available at
Phog Bounders Antique Mall
, at 9th & Marine Drive, Astoria. It's a perfect starting point before making your way through downtown, where you can then appreciate how the city has changed, while still bearing semblance to its wicked roots.
+
Shanghaiing
Astoria's seaside location, along with the population of transient young fishermen that contributed to the region's unruly nature, made it an especially fitting place for shanghaiing businesses to emerge. Because of the nature of the practice, few hard numbers exist, but some researchers estimate that
as many as 1,500 people
were shanghaied in Oregon each year. A few Astoria residents were well-known for their immoral business operations.
On the north side of Commercial Street between 14th and 15th Street
, just up the street from Sara's Old Photos, was once Bridget Grant's seaman's boarding house. Bridget ran a booming business for close to 30 years, and was well known by the locals for shanghaiing.
Jim Turk, who is often credited as the man who brought the whole Shanghaiing scene to Oregon, had a nearby seaman's boarding house
on the south side of Commercial Street between 15th and 16th, in what is now the parking lot for the Roby's furniture store
. Jim Turk's business was a family affair, with he and his sons engaged in the shanghaiing business from Astoria to Portland.
If you plan your Astoria-Warrenton trip during summer/early autumn, you can get wrapped up in a theatrical representation of Astoria's history of shanghaiing at the Astor Street Opry Company's annual vaudeville performance,
Shanghaied in Astoria
.
+
Gambling
Along with shanghaiing, gambling was an especially prominent practice in Astoria-Warrenton. An examination of the citation records from the 1890s to early 1900s reveals that the city's "wicked" activity wasn't just at the hands of transients, prostitutes or saloon owners. The records show that gambling repeat-offenders were generally fined once per month, around the same time and amount. Rather than discourage law-breaking, this system essentially makes a business out of it, with gambling offenders paying a small monthly fee to the local authorities.
The section of Astoria's
Astor Street from 7th to 9th Street
was one of the town's notoriously rowdy areas, especially dense with saloons, dance halls and boarding rooms associated with prostitution. Though unfortunately no longer standing in its original location, the famous Astor Saloon is recreated in the Heritage Museum.
+
Indecency
To fully appreciate Astoria's wicked history, your tour shouldn't end at sundown. You can spend the evening in one of
Astoria's historic hotels
, which, although they have been renovated or rebuilt to offer modern amenities, still inspire an "if these walls could talk" sense of wonder.
Many of the worst-reputed boarding homes are no longer standing or available for visitors. Among them, the John Jacob Astor Hotel, now an apartment building
located on the southeast corner of 14th and Commercial Street
, had such a reputation for prostitution that it was off-limits to soldiers during WWII.
+
Throughout your visit to Astoria-Warrenton, the best way to really immerse yourself in the region's wicked history is to talk to the cast of characters around town. The Heritage Museum staff, your hotel concierge, or the couple at a nearby lunch table are all likely to have their own unique stories they can offer about the town.
And don't forget, there are a few sides to every (hi)story. When you've had your fill of its sinister side, you can explore any number of other faces of Astoria's history and
things to do
in Astoria-Warrenton by visiting Lewis and Clark early expedition sites, marveling at the Victorian-era
Flavel House Museum
, or jumping back into the present at one of the city's
newest brewpubs
.