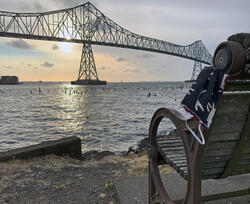 Wide-Open Spaces Beckon Adventurers
Written by Jennifer Burns Bright

Feeling wanderlust, but a little nervous about changing rules for travel? Oregon coast towns have worked hard to make guests safe and welcome—none more so than Astoria and Warrenton. Your favorite seafaring views and ice-cold brews are still here, but you'll be delighted by what you missed the last time 'round.
Consider this a different kind of guide, one for travelers looking for more room to breathe. Luckily, Astoria and Warrenton are full of wide-open spaces. And the spacious brewpubs and shops in historic downtown Astoria are now even more amenable to limited-contact engagements.
When you come visit, please help keep the coast safe: wear your mask, stay six feet away from others, hit that hand sanitizer often, and plan ahead to be sure your favorite spots are open, especially on weekdays.
Outdoor Adventures
Before Astoria was Astoria, it was Fort Clatsop. At Lewis & Clark National Historic Park, learn about the Corps of Discovery and their miserable 1805–06 winter visit. And did you know the park leads guided kayak tours from Netul Landing, just a short walk from the interpretive center? Reserve ahead for Thursday through Sunday launches through mid-September.
Fort Stevens State Park in Warrenton has reopened beach access and camping. The old military batteries dotting the fort's historical area now guard a brand-new feature: an incredible 18-hole disc golf course, including tees with sweeping views of the Columbia. Purchase commemorative discs from the pop-up store outside the (still closed) park museum on weekend afternoons.
Avid ship-watchers flock to Astoria's Riverwalk, but locals frequent Warrenton's Riverwalk, with similar bridge views and fewer pedestrians! Access the path at E. H. Carruthers Memorial Park, and bring Fido to play at the fenced, off-leash dog park.
Living History
Astoria's Victorian architecture earned the town its nickname of "Little San Francisco." The massive Queen Anne–style Flavel House Museum takes up an entire city block. Break from the crowd and traverse the surrounding streets on the Historic Astoria Loop Hike to gaze at more grand houses, including Clementine's Bed & Breakfast, offering overnights in a stately mansion.
The Columbia River Maritime Museum houses state-of-the-art exhibitions on maritime history and science. It's now reorganized, with a one-way path through the building, and features a new exhibit on steamer travel. Check out the decommissioned lightship moored behind the museum.
Shopkeepers and gallery staff in Astoria's Downtown Historic District have been working hard to stay open during the pandemic. Short Wave Shop & Gallery, for example, hawks locally made clothing, accessories, and skin care products from a shop with hand sanitizer stations. And Astoria Vintage Hardware's warehouse has plenty of room for contact-free shopping for vintage furniture and furnishings.
Dining & Drinking Downtown
Ahoy, beer lovers! Astoria's biggest and most beloved brewpubs, Fort George Brewery & Public House downtown and Buoy Beer Company on the river, are both open with some modifications. Buoy has shifted its indoor seating to a new beer garden across the trolley tracks and has expanded outdoor seating. Fort George hosts reservation-only dining upstairs and offers many to-go offerings. It's an easy walk to a hip and affordable hotel, The Commodore, if you decide to spend the night after sampling brews.
For alfresco dining, several food truck pods feature outdoor seating, including a particularly welcoming plaza fronting Reveille Ciderworks and Reach Break Brewing. Grab local fish tacos at the new CS Fishery cart, a reuben at Sasquatch Sandwich Shop, or a green curry at Mai Tong Thai. Opting for an open-air picnic? Look no further than Astoria's charming new downtown bakery and market, Gathered Bakeshop & Market.

Read the full article here.