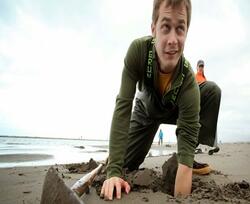 Wild Harvest: A Guide to Foraging and Clamming
Uncover, dig up, or reel in your own wild harvest in Astoria and Warrenton.
The area's diverse topography means we have some of the best conditions for crabbing, clamming, foraging and fishing on the Oregon Coast. See below for tips on how to find mushrooms and razor clams for some low-tech, high-energy fun. Finder's keepers!
Foraging
From bulbous King Boletes and prized White Matsutakes to the beautiful but poisonous Fly Amanita, there's an amazing variety of fungi that thrive around Astoria and Warrenton, Oregon. The dense coastal forests of Fort Stevens are the perfect breeding ground for these mysterious species, and they're ripe for the picking in late summer and fall. If you're looking for things to do in Astoria, Oregon, grab a pocket knife and basket and go on a hunt for hearty edibles at Fort Stevens State Park in the nearby community of Warrenton – but be careful to pick the right ones!
Download this
handy guide
for basic mushroom identification. Poisonous mushrooms may be present and picking the Alice in Wonderland variety is prohibited, so we recommend consulting with an expert, or referring to an Oregon mushroom identification book. Peak season for foraging is end of August after the first hard rain through end of November after the first hard freeze. Be sure to dress in layers!
Skip the uncertainty and join a guided mushroom hike at Fort Stevens which run September through November. As mushroom experts, park rangers will explain the area's foraging regulations and offer instruction for mushroom identification and usage on the one-mile forest walk. See the full calendar of hikes
here
.
Clamming
The 18 miles of the long, flat beaches from Fort Clatsop to Seaside are a clam digger's dream. Stable sand conditions produce a plethora of razor clams, making Astoria and Warrenton one of the best places to score a great catch.
Before hitting the beach, you'll need a shellfish license and some sturdy rubber boots.
Follow this guide
from the Oregon Department of Fishing & Wildlife (ODFW) for an easy how-to, and see below for the nitty gritty on regulations, licenses, equipment needs and pro tips.
Looking for more information? Check our KGW's Grant's Getaway's segment,
"Evening Razor Clamming,"
to learn more about foraging clams on the Oregon Coast.
---
Resources
Where can I get a shellfish license? Licenses can be purchased online or quickly picked up at several locations in the area including: Fred Meyer on Hwy 101, Tackle Time and KOA in Warrenton.
How much does a license cost? If you're an Oregon resident, you can get an annual license for $8; $20 for a non-resident.
What's the razor clamming season? Clamming season happens all year long, except July 15-Sept. 30 when clams are reproducing. Be sure to check status any time of year with the Department of Agriculture in case there is a recreational shellfish biotoxin closure.
How do I dig up clams? You can use a shovel or a "clam gun" – a device made from metal or PCV pipe that helps you lift clams out from under the sand (easiest for first-timers). Clam guns can be purchased at the above locations where shellfish licenses are available.
What should I wear? Dress in layers for wet weather conditions and plan to get your feet wet. Rubber boots are a good idea.
Insider tips from the experts
:
Look for siphon holes or "shows" – little air pockets in the sand – that are dime-sized or larger to avoid small clams. Small shows, especially those smaller than the diameter of a pencil, are associated with small clams. Once you've spotted a "show", you need to move fast, as clams can disappear deeply into the sand within seconds.
If you dig several small clams, move to a different area.
Broken or small clams are still edible. The cleaning process might take longer but they are still good to eat.
For a successful session, follow ODFW's clam harvesting rules
:
The bag limit is the first 15 clams taken, regardless of size – small or broken clams must be included in the bag limit.
All clam diggers, regardless of age, must dig their own clams, carry their own container to hold harvested clams, and may not possess more than one limit of clams in the clamming area.
Clam diggers 14 years and older must have a shellfish license to harvest clams.
Razor clams may be taken by hand, shovel or with a clam gun at least 4 inches in diameter.
For more information about razor clams and digging techniques, check out the
ODFW razor clam website
.
After a day of foraging or clamming, we recommend relaxing with a beer at one of
Astoria's many brewpubs
. Or, explore additional things to
do
in Astoria and Warrenton to make the most out of your visit!
This post was created in 2014. Check with local authorities linked above for the latest rules and regulations.