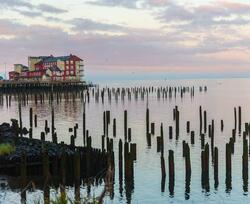 A Winter Weekend in Astoria and Warrenton
Typically, the colder months are considered the "off-season" of traveling for Pacific Northwest coastal destinations, but those longing for open-sea views and a weekend away can enjoy the perks of discounted rates on rooms and a slower-paced visit. Ready to dive in? Then keep reading to get our take on how to relish a perfect winter in Astoria and Warrenton.

Step 1: Book Your Stay
As part of this North Coast community's charm, almost all lodging in Astoria and Warrenton – be it hotels, motels, or inns – provide great conveniences to nearby food hubs, shops, and museums. When choosing a place to stay, perhaps consider the location. Do you want to be on the thriving Astoria Riverwalk dotted with renovated warehouse breweries, wine bars, and restaurants, or do you want easy access to parks, beaches, and trails? Below we list a few options that illustrate the range the area has to offer. However, if you want to view a complete list of our recommendations, be sure to visit our hotel and motel directory linked here.
Options in Astoria
Options in Warrenton
Step 2: Craft an Indoor Friendly Itinerary
While plenty of people visit the area for its coastal landscape, there's more to it than meets the eye. We've chosen to highlight activities where visitors can learn about the area's rich history and visit Astoria and Warrenton's welcoming storefronts and businesses:
Step 3: Gather for Some Hearty and Delicious Eats
When winter is in full swing, there's nothing better than heading to a good restaurant and ordering warm, hearty food. Offering more than just delicious clam chowder, Astoria and Warrenton provide plenty of options inspired from all over the globe. Explore the list below for a peak into the area's broad span of cuisines:
Step 4: Warm Up with a Tasty Night Cap
It's no secret that nationally available beers like Fort George and Buoy Beer stemmed from the roots of Astoria, but the town also has locally available breweries, bars, and wineries, that offer a snug Astoria-centric atmosphere. Read on for a sampling of choices waiting for you to visit this winter:
Looking for more of a reason to visit in the winter? Check out our See & Do and Events for more Astoria and Warrenton travel ideas.