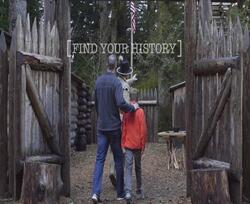 Immerse Yourself In History
History in Astoria and Warrenton
As the oldest American settlement west of the Rockies, Astoria has a storied history that is still very much alive and accessible to visitors today. Stroll through the revitalized 1920s-era downtown or retrace Lewis and Clark's footsteps, but don't miss these great stops.

Dive into river life: Explore thousands of nautical artifacts at one of the top maritime centers on the West Coast, the Columbia River Maritime Museum, and learn heritage crafts like Scandinavian boat building and Northwest Native American bentwood boxes at the new Barbey Maritime Center. Nearby, the Heritage Museum brings to life the stories of early immigrants and settlers, the fishing industry and this "bustling, booming, hell-raising town," as it was referred to in the early 1900s.

Prepare for battle: Just 11 miles west of downtown Astoria in Warrenton, Fort Stevens lies near the beach of the Pacific Ocean. The fort was built in 1865 to protect the mouth of the Columbia River from Confederate gun boats and the British Navy during the Civil War, and continued to be used through WWII. Stop by the Military Museum at Battery Pratt and be sure to seek out a living history reenactment in the summer, where you can fire blanks from different period weapons including Russian, German, British and U.S. rifles.

Retrace famous steps: Visualize the Lewis and Clark Expedition's soggy sleeping quarters at Fort Clatsop, where a reconstructed replica of their winter encampment from 1805-1806 invites visitors to put themselves in the explorers' shoes. During summer months, learn how to shoot flintlock guns, tan a deer hide or make candles with demonstrations at the interpretive center.

Walk like an Astorian: Completed in 1926, the 125-foot Astoria Column is wrapped by a spiral mural depicting the history of the North Coast from the traditions of the Chinook and Clatsop Indians to early fur trappers and the arrival of the railroad. Climb 164 steps to the top for a breathtaking 360-degree view of the Pacific Ocean, Youngs Bay, the Columbia River and wooded coastal forests.

Make your way back downtown through the steep, winding hillsides of 19th and early 20th Century Victorian homes that have earned Astoria the nickname "Little San Francisco." Stop at the Flavel House Museum to peek inside the historic 1885 Queen Anne-style mansion of one of Astoria's most famous families.

Roll on home: Give your feet a break by hopping on the 100-year-old Astoria Riverfront Trolley for an hour-long scenic tour along the historic waterfront – grab a seat for only a buck!

Check out See & Do and Events for more history travel ideas.